Giant Crab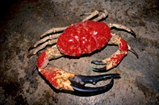 Giant crabs (Pseudocarcinus gigas) are fished commercially in western Victoria. The fishery is a small quota managed fishery that is closely linked with the Rock Lobster Fishery. The majority of vessels are used primarily for rock lobster fishing with giant crab taken as by-product. However, a small number of fishers target giant crabs and processors who specialise in exporting giant crab have developed technologies to store and transport live crabs to international markets.
Details the Victorian Giant Crab Fishery, including species information, fishery location, fishing method, fishery management and fishery statistics
Process of Setting the Total Allowable Commercial Catch
Details the process and methods used for setting the annual TACC
Rock Lobster and Giant Crab Resource Assessment Group
Details the purpose, role and membership of the RLRAG.
Includes annual Stock Assessment Reports.