Fishery Overview
Victorian Giant Crab Fishery Management Plan
Summary – Key Element of the Giant Crab (Western Zone) Fishery
Western Zone

Species

Giant crab (Pseudocarcinus gigas)

Fishery boundary

Longitude 143o40'E

Longitude 140o57.9'E

Latitude 40oS

Fishing method

Baited commercial pots

Primary management method

Quota – individual transferrable quota unit and total allowable commercial catch

Secondary management methods

Legal minimum length, gear restrictions, closed seasons, permanent prohibition on the retention of berried females

Maximum number of licences

30

Maximum number of licences per boat

Not limited

Total number of quota units

500

Minimum quota holding per licence

No minimum

Maximum quota holding per licence

No maximum

Maximum number of pots per boat

140

Legal minimum length

140mm carapace for male giant crabs and 150mm carapace for female giant crabs

Closed seasons

Females = 1 Jun to 15 Nov Males = 15 Sept to 15 Nov
The Species
The giant crab, Pseudocarcinus gigas, is a member of the family Xanthidae, a group that contains few commercially exploited species. The species is only found in southern Australian waters between central New South Wales to southern Western Australia, including Tasmania. Giant crabs inhabit the continental slope at approximately 200 metres depth and are most abundant along the narrow band of the shelf edge. Knowledge of these areas is limited; only small areas are mapped and there is little information available on the ecological relationships between giant crabs and other species.
Growth of giant crabs is relatively slow. To reach the legal minimum length of 150mm carapace length, female crabs take approximately seven years and males take three to four. The inter-moult period is one of the longest of the crab species and can be up to 15 years for mature females. Female giant crabs are highly fecund and their ability to store sperm allows them to fertilise their eggs over several successive breeding seasons. Eggs are released during autumn and incubated under the tail until the following spring when they are released in the shallower depths of the shoulder of the continental shelf.
The Fishery
The Giant Crab Fishery is a small, limited entry fishery closely linked to the Rock Lobster Fishery. Initially, the Commonwealth Government managed the fishery as an open access fishery, but arrangements were made in 1992 to introduce permits for qualifying Rock Lobster Fishery Access Licence holders. This change was introduced by the Australian Fisheries Management Authority in cooperation with The Victorian Fisheries Authority. Jurisdiction was transferred to Victoria from the Commonwealth under an Offshore Constitutional Settlement Arrangement in 1997.
The boundaries of the fishery mimic those of the Rock Lobster Fishery, however the fishery is based in the Western Zone.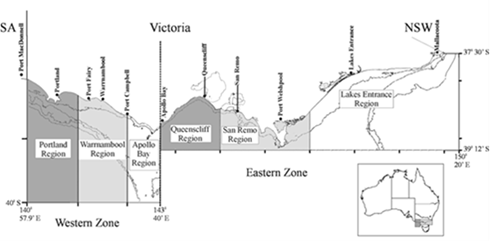 The Fishing Method
Fishers target giant crabs using baited rock lobster pots. A pot can have only one entrance and one chamber. Each pot must have at least one escape gap to allow undersize rock lobster and giant crabs to escape.
Management Arrangements
The Giant Crab Fishery is managed through the Victorian Giant Crab Fishery Management Plan and has been under a quota management system with individual transferable quota units since 2001.
A Giant Crab Fishery (Western Zone) Access Licence can only be operated when it is joined to a Rock Lobster Fishery (Western Zone) Access Licence. Giant crab licences do not under normal circumstances have a pot entitlement, so licence holders use the pot entitlement of the linked Rock Lobster Access Licence to take giant crabs within their quota allocation. To date, licences have only been issued for the Western Zone.
Quota units in the Giant Crab Fishery can only be owned by Giant Crab Fishery Access Licence holders but may be traded independently within the fishery. There is no maximum or minimum number of quota units that can be attached to a licence and quota units may be transferred permanently or just for a quota period (1 July – 30 June).
Under the quota management system, the fishery is managed through an annual determination of a total allowable commercial catch (TACC) in the form of weight of giant crabs. Each licence holder is then assigned a proportion of the TACC in accordance with the quota units attached to their licence, which confers a kilogram value.
Should there be an interest in exploratory fishing for giant crab in the Eastern Zone, eligible licence holders are able to apply for a general permit to fish.
In addition to quota management, the fishery has a number of other management controls including a legal minimum length and closed seasons:
The legal minimum length is 140mm for male giant crabs and 150mm for female giant crabs. For regulatory purposes, the carapace length of giant crabs is the straight line distance from a point between the eyes to the opposite point at the rear of the carapace.
The closed season for female giant crabs is from 1 June to 15 November and from 15 September to 15 November for males. The primary reasons for the closed season are to protect female crabs during the spawning season and to prevent the use of pots during the closed season for rock lobsters. In addition, there is a total year-round ban on the retention of berried females.
Fishery Statistics
The majority of data collected in the Giant Crab Fishery is based on what is reported in catch and effort logbooks. This includes the amount of catch taken, the length of time pots have been in the water (i.e. effort) and average size of giant crabs caught. This data forms the basis for the annual assessment and total allowable commercial catch (TACC) determination.
Catch and effort over time
Targeted fishing for giant crabs began in the 1990's and from that time there has been a general decline in catch and associated effort in the fishery. To be considered an active participant in the fishery, a fisher must land more than one tonne of giant crab in a given year. Since the introduction of quota management in 2001, there have been five or less dedicated fishers active in the fishery and up to 20 fishers annually reporting giant crab catch as byproduct from rock lobster fishing.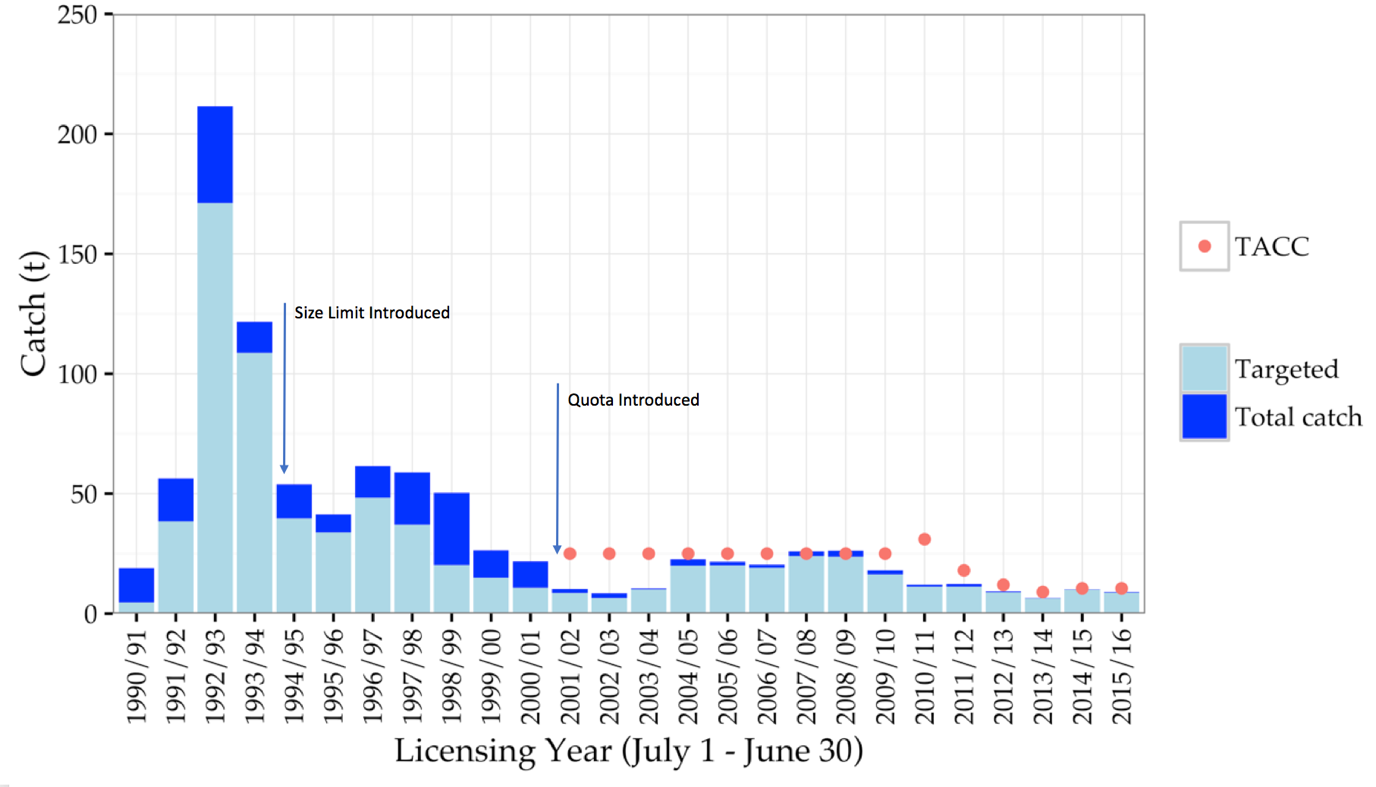 Figure 1: Total and targeted catch history (in tonnes) for the Victorian Giant Crab Fishery
The giant crab catch and annual TACC since the introduction of quota management is described in the table below.
| | | | |
| --- | --- | --- | --- |
| Quota year | Quota period | TACC set (tonnes) | Catch (tonnes) |
| 2015-16 | 1 July – 30 June | 10.5 | 10 |
| 2014-15 | 1 July – 30 June | 10.5 | 10.5 |
| 2013-14 | 1 July – 30 June | 9 | 6.5 |
| 2012-13 | 1 July – 30 June | 12 | 10 |
| 2011-12 | 1 July – 30 June | 18 | 13 |
| 2010-11* | 1 April – 30 June | 31 | 17.4 |
| 2009-10 | 1 April – 31 March | 25 | 24.3 |
| 2008-09 | 1 April – 31 March | 25 | 20 |
| 2007-08 | 1 April – 31 March | 25 | 24.3 |
| 2006-07 | 1 April – 31 March | 25 | 21.8 |
| 2005-06 | 1 April – 31 March | 25 | 21.4 |
| 2004-05 | 1 April – 31 March | 25 | 20.4 |
| 2003-04 | 1 April – 31 March | 25 | 11.9 |
| 2002-03 | 1 April – 31 March | 25 | 9.2 |
| 2001-02 | 1 July – 30 June | 16.7 | 7.9 |
*in 2010/11, the season was extended to bring it into alignment with the financial year and proportional quota was given.