Regional Fisheries Consultations Meeting Outcomes 2009
Fisheries Management Paper
Fish Stocking, Fish Population Surveys and other Recreational Fisheries Management Issues
FISHERIES VICTORIA MANAGEMENT REPORT SERIES NO. 72
November 2009
Introduction
2009 CONS commitments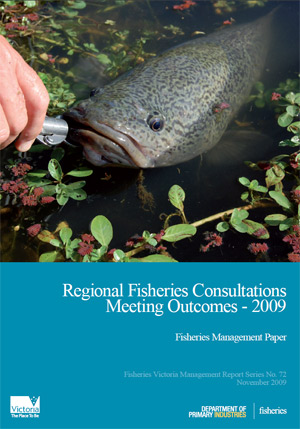 The CONS stocking commitments scheduled a total of 1,761,791 fish to be stocked in Victorian public waters for recreational purposes in 2009.
The total number of salmonids to be stocked in 2009 is 341,091 and the total number of natives scheduled to be stocked in 2009 is 1,420,700.
Background
The CONS meetings held in February 2009 decide upon the stockings which will occur in 2009. The meetings are the focal points for information from various sources, including requests and viewpoints from anglers. Draft reports of the meetings are prepared by Fisheries Victoria and circulated to participating stakeholders for comment prior to publication of this document. This report is a summary of the key outcomes of the 2009 CONS meetings.
The Victorian Government has committed $13.5 million to enhance recreational fishing opportunities throughout Victoria, including a 30% increase in salmonid and native fish stocking between 2006-2010 in Victorian public water for recreational purposes. Stakeholders have input into the process that determines what fish species go where and when, through their participation in the annual regional consultative meetings (CONS).
CONS provides a forum for discussion on fish stocking regimes, fish population surveys and other related recreational fisheries management issues. Meetings involve representatives from Fisheries Victoria, VRFish, Water Management Authorities, Catchment Management Authorities (CMAs), the Department of Sustainability and Environment (DSE), and other organisations connected with recreational fishing.
The role of the meetings is to:
Review the current year's stocking plans and identify necessary modifications
Draft the following years stocking plans
Identify management questions to be answered by stock or catch assessments
Identify current fishery management issues.
The Department acknowledges and commends the important contribution made by stakeholders who provide their time to prepare for and attend these meetings.
2008 salmonid stocking results
The stocking plan for salmonids developed from CONS meetings identified a suggested stocking profile of 386,685 salmonids to be stocked in the 2008 calendar year if favourable environmental conditions occurred.
In 2008 a total of 367,870 (or 95.1%) of the scheduled salmonids were stocked.
A total of 90 salmonid waters were stocked in 2008. A further seven salmonid waters from 2007 were not stocked due to impacts from drought.
2008 native stocking results
CONS scheduled 995,150 natives to be stocked in 2008 if favourable environmental conditions occurred.
Over 833,250 fish were stocked representing 84% of the stocking commitment.
2008 totals (salmonids and natives)
Of the total 1,381,835 scheduled stocking of salmonid and native fish, 1,200,820 were stocked.
Fisheries Victoria contacts
For management issues:Head Office: John Douglas 03 5772 0200
Gippsland: Dick Brumley 03 5155 8108
North East: Joy Sloan 02 6043 7929
North West: Joy Sloan 02 6043 7929
South West: Craig Murdoch 03 5233 5580
Port Phillip: Peter Lawson 03 5226 4510
For compliance issues:
To report fisheries offences call 13FISH (133 474).
Figure 1. Map of Victoria showing Department of Primary Industries regional boundaries
Click the below map to view a larger versions.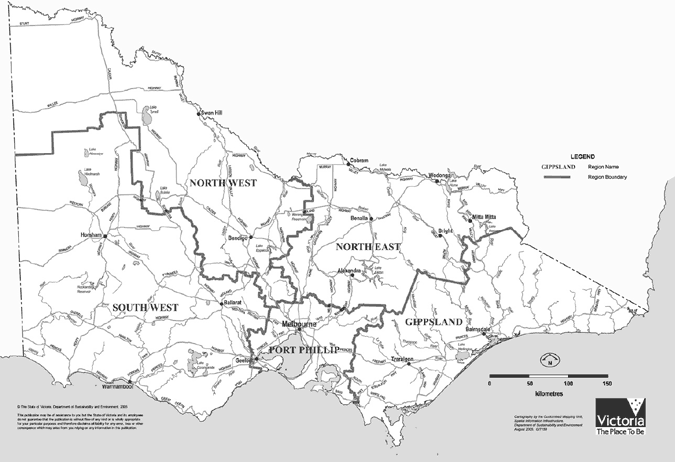 Statewide issues
The following is an overview to key statewide issues relating to fish stocking. Issues relating to each region are further described later.
Fish stocking in lakes and streams The salmonid and native stocking tables included in appendix 1 detail the planned public water stocking rates for the 2009 salmonid and 2009/2010 native stocking seasons and are determined through the regional stakeholder
consultation process (CONS).
The proposed figures are based on the projected water levels for each of the identified water bodies. Prior to stocking, each water is assessed and where required, fish numbers adjusted according to the prevailing conditions. Any figures shown in brackets are the maximum stocking rates approved if conditions substantially exceed projections.
Family Fishing Lakes stocking
The Family Fishing Lakes Program stocks ready-to-catch advanced yearling rainbow trout into suitable impoundments during the second and third school holidays. The primary purpose is to provide a recreational fishing experience to junior anglers and anglers with restricted mobility. The waters selected are close to populated areas with good access. There are 56 suitable waters located near urban centres throughout Victoria that are stocked with ready to catch rainbow trout as part of the Family Fishing Lakes stocking program.
Premier Lakes stocking
Five of the Family Fishing Lakes have been selected to be developed as Premier Lakes as part of the Go Fishing in Victoria initiative. The Premier Lakes will be stocked with larger Premier rainbow trout (>1 kg) at least four times per year (subject to suitable water conditions). This is in addition to the normal advanced yearling trout that are also stocked. The Premier Lakes are Lillydale Lake, Hyland Lake, Jubilee Lake, Eildon Pondage and Kennington Reservoir. This program is due for completion in mid 2010.
Premier Rivers
To cater for more experienced anglers, sections of the Hopkins, Goulburn and Kiewa rivers will be developed and promoted as Premier Rivers. The rivers have been chosen for their existing riverine environments and high recreational angling values. The Hopkins River was launched in April 2009. The Premier Rivers have increased access for anglers.
Trial Macquarie perch breeding program
The Department of Primary Industries is exploring options for developing a stock enhanced recreational fishery for Macquarie perch. A national workshop in 2008 identified research and policy directions necessary for the trial of a breeding program for the species. A summary of this meeting is available at www.depi.vic.gov.au/fishing-and-hunting then click on Recreational Fishing. A steering committee consisting of
representatives from Native Fish Australia, VRFish, the Arthur Rylah Institute and Fisheries Victoria will guide the program. A breeding program has recently begun at Snobs Creek.
New Recreational Fishing Grants Working Group
The Victorian Government is implementing new consultation arrangements to assist in the future management of the community's fisheries resources, with a strong focus on providing a broader range of opportunities for engagement and greater transparency and accountability in decision making for all parties, including:
Opportunities for recreational fishers and Fisheries Victoria to engage through Regional Roundtable Forums to be held around Victoria on an annual basis, with participation generally based on a local group of fishers who collectively cover the range of fishing interests in each region.
Opportunities for recreational fishers and Fisheries Victoria to engage on strategic level matters through a Statewide Roundtable Forum to be held on a quarterly basis, with participation generally based on a group of fishers who collectively cover the broad range of fishing interests across Victoria.
Opportunities for local recreational fishers and Fisheries Victoria to engage on 'grass roots' matters on a needs basis.
Establishing a Recreational Fishing Grants Working Group, comprising of recreational fishers, to provide advice on the expenditure of Recreational Fishing Licence revenue.
Providing secure funding from the Recreational Fishing Licence revenue to VRFish for three years.
Exploring the possibility of establishing a new entity to deliver selected programs to improve recreational fishing.
Fisheries Victoria is currently working with the Statewide Recreational Fishing Roundtable to provide advice on the broad priorities for future investment relevant to improving opportunities for recreational fishing. This includes conducting nine regional forums to seek ideas from local fishers and an upcoming random survey of licence holders.
Inland Fishery Management Plans
The following Inland Fishery Management Plans have been declared under the Fisheries Act 1995:
Bendigo Region Fishery Management Plan (declared April 2002)
Goulburn Eildon Fishery Management Plan (declared June 2002)
Glenelg Hopkins Fishery Management Plan (declared November 2006)
North East Fishery Management Plan (declared August 2007)
West Gippsland Fishery Management Plan (declared July 2008)
Corangamite Fishery Management Plan (declared November 2008).
The following Inland Fishery Management Plans are in preparation:
East Gippsland Fishery Management Plan
Goulburn Broken Fishery Management Plan
Draft Port Phillip Western Port Fishery Management Plan
Draft Wimmera Fishery Management Plan.
New native fish production facility for Snobs Creek
The Victorian Governments fish production facility at Snobs Creek has been identified as a preferred site for a $1.3 million upgrade and redevelopment which will increase its capacity to produce greater numbers of native fish for stocking into Victorian waters. Detailed site investigations are underway.
The investment will include the construction of a number of brood fish ponds and plankton ponds which are used in the rearing of larval and fingerling fish. In addition, the existing buildings and infrastructure will receive an extensive upgrade to optimise future native fish production.
Gippsland
At DPI Traralgon
Wednesday 4th March 2009
Fisheries Victoria: Robert Gibb, Errol Parmigiani, Dick Brumley, John Douglas
VRFISH: Christopher Collins, Robert Caune, Rod Booker
DSE: Bill OConnor
Other: David Kramer (Futurefish Foundation)
Australian bass for Gippsland
The Department of Primary Industries is sourcing Australian bass broodstock from rivers flowing into the Gippsland lakes to supply to a private contractor to breed Australian bass. It is hoped that if successful, a consistent supply of Australian bass fry will deliver on previous CONS stocking commitments. A desktop review of fish population data is also being conducted to assist in understanding wild bass population trends over time in these waters.
Barramundi in Hazelwood Pondage
The Futurefish Foundation is working with Fisheries Victoria towards developing a recreational Barramundi fishery at Hazelwood Pondage near Morwell. The suitable water temperature for the fishery is due to water used for cooling the power station. A detailed translocation risk assessment is being conducted using independent expertise. The outcomes of this assessment will be considered by the Translocation Evaluation Panel with advice then provided to Fisheries Victoria.
North East
At DPI Benalla
Wednesday 4 February 2009

Fisheries Victoria:
Robert Gibb, Joy Sloan, David Trickey, Russell Strongman, John Douglas, Julia Smith, Travis Dowling, Neil Hyatt
VRFISH:
Stafford Simpson, Wally Cubbin, Dale McCabe, Christopher Collins, Pat Sheridan, Stan Miosge, Richard Maxwell
Eildon community representative: Norm King
Goulburn-Murray Water: Lydia Mattner
Goulburn Broken Catchment Management Authority: Wayne Tennant
Goulburn Valley Associated Angling Clubs: Ern Hollaway (observer)
Apologies: Greg Sharp, Matt McMahon (Fisheries Victoria), Fern Hames (DSE), Terry Wisner (North-East Water), Anthony Wilson, Peter Sacco (NE CMA)
Supporting the recovery of the recreational fishing industry in bushfire damaged areas
In 2007, a Ministerial Taskforce for bushfire recovery allocated $455,000 for a three-year project to support the recovery of the recreational fisheries in bushfire damaged areas.
The project had three main objectives:1. Monitor and assess the recovery of recreational fisheries
2. Determine behavioural drivers of anglers in the bushfire area
3. Undertake a social and economic study of the area.
The study is now complete. An interim report can be found at www.dpi.vic.gov.au/fishing then click on Recreational Fishing and a final report will be available soon.
Developing a trial recreational fishery for trout cod
Trout cod fry have been stocked into Lake Kerferd in 2008 and 2009. New broodstock have been sourced and offspring will be stocked into Kerferd and Sambell Lakes in 2010. A research project will investigate the validity and efficiency of trout cod stockings, using Lake Sambell as a control to compare experimental results.
Goulburn River stocking
The Goulburn River is well-known as a world class trout fishery and this was recognised in September and November this year when 2300 ready-to-catch trout were released into the river for the start of the trout open season to provide greater opportunities for recreational anglers. This stocking program has provided a boost for regional economies affected by the bushfires and will be monitored over the next 3 years via research on this fishery and an enhanced stocking program of 5,000 fish per year.
Nagambie Lakes
To boost opportunities for native fishing in the northern region, over 250,000 golden perch and Murray cod have been released into the Nagambie Lakes. This massive stocking program commenced in 2008 and will continue each year for five years to develop a world class native fishery in Nagambie.
North West
At DPI Bendigo
Tuesday 10 March 2009

Fisheries Victoria: Joy Sloan, Robert Gibb, Gary Hodges, Greg Brodie
VRFISH: John Corbett, Alan Digby, Rob Loats, Wally Cubbin, Christopher Collins, Barrie Crombie, Tony Jacobs (proxy Greg Hellsten)
Catchment Management Authority: Darren White North Central
Water Management Authority: Erin Simpson Goulburn-Murray Water
Apologies: Greg Hellsten (VRFish), John Douglas, Dave Cattlin (Fisheries Victoria), Fern Hames (DSE),
Kerang Lakes
Over 275,000 golden perch and 12,000 dart tagged yearling Murray cod have been stocked into the Kerang lakes since 2003 when inland commercial fishing licences were bought out using funds from the sale of recreational fishing licences.
A 2008 survey by Fisheries Victoria has shown good numbers of golden perch in the Kerang Lakes. Of the 41 golden perch caught the largest weighed 2.5 kg and measured 50 cm in length. More than 200 redfin were also captured from the three lakes suggesting healthy populations of this popular table species.
Port Phillip
At DPI Geelong
Wednesday 18th February 2009
Fisheries Victoria: Robert Gibb, Matt Ward, Peter Lawson, John Douglas, Richard Rogala
VRFISH: John Hotchin, Russell Conway, Christopher Collins, Tony Cahill
Water Management Authority: Lucy Rose - Melbourne Water
Catchment Management Authority: Jayden Woolley Corrangamite CMA
Apologies: Des Lucas (Parks Vic), Mark Smith (Port Phillip Westernport CMA)
Developing new fisheries at Devilbend Reservoir
Parks Victoria released the draft Management Plan for the Devilbend Natural Features Reserve at the end of 2008 and undertook a significant period of public consultation. VRFish ran a workshop in late February 2009 to enable recreational anglers to have their say about the reserve. As a result of the workshop VRFish developed a detailed submission to Parks Victoria on the draft plan. Parks Victoria has reviewed draft plan submissions and is in the process of finalising the management plan. Fisheries Victoria has completed a risk assessment as part of the process in developing a stocked recreational fishery in Devilbend and Bittern Reservoirs. This was done to assess the environmental risks involved in translocating fish to these waters.
South West
At DPI Ararat
Wednesday 25th February 2009
Fisheries Victoria: Robert Gibb, John Douglas, Craig Murdoch, Murray Burns, Tash Wills, Paul Shea, Heath Cameron, Troy Duthie,
Cameron McCallum, Duncan Hill, Bill Lussier
VRFISH: Geoff Cramer, Rob Loats, Keith Ridsdale, John Hotchin
Catchment Management Authority: Jarrod Obst Glenelg Hopkins, Greg Fletcher Wimmera.
Estuary perch in Lake Bolac
After a detailed translocation risk assessment and receiving advice from the Translocation Evaluation Panel, the Executive Director of Fisheries Victoria has approved the application to stock estuary perch into Lake Bolac. This project was initiated by the Lake Bolac Angling Club. Due to impacts from drought, the stocking of estuary perch into the water is on hold until the water is suitable.
Improving angler access to Aringa Reservoir
As part of the Enhanced Recreational Fishing Program, an access track to Aringa Reservoir near Port Fairy has been upgraded, providing year-round access for shore-based anglers and boats. Fishcare South West managed the improvement on behalf of Fisheries Victoria.
Improving angler access to Lake Purrumbete
Fisheries Victoria in collaboration with Parks Victoria has reopened boat access to one of Victorias most popular fishing locations at Lake Purrumbete, near Camperdown, through a $50,000 grant as part of the Enhanced Recreational Fishing Program. This program is administered by DPI as part of the 2006 Labor Financial Statement commitments.
Appendix
Fish Stocking for Recreational Purposes Policy
Organisational abbreviations
Appendix 4 - Fisheries Management Report