Vic Fish Stock 2010
Fisheries Management Paper
Fisheries Victoria Management Report Series No. 77
JULY 2010
ISSN 1448-1693
ISBN 978-1-74264-279-6 (print)
978-1-74264-280-2 (online)
Cover photograph: Scott Gray
Contents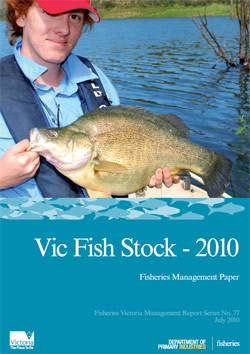 Introduction
2010 Vic Fish Stock commitments
2009 salmonid stocking results
2009 native fish stocking results
2010 native fish stocking outcomes
Past fish stocking outcomes
Background
Statewide issues
Enhanced Recreational Fishing Program
Adopt-a-Stream
Increase fish stocking by 30%
New native fish production facility in Victoria
Upgrade of salmonid hatchery at Snobs Creek
Crack down on fisheries crime by continuing the 13 FISH reporting line
Improving angler access
New recreational fishing reefs
Fish Cleaning Tables program
Developing new fisheries
Classification of Victorian Inland Waters
Review of membership of the Fisheries Revenue Allocation Committee
Purrumbete boat ramp
Promoting recreational fishing in Bushfire affected areas
Goulburn stocking trial
Promotion of recreational fishing in bushfire affected areas
Recreational Fishing Licence Trust Account
Wimmera River stocking
Go Fishing In Victoria
Fisheries Victoria contacts
Appendix 1 - Proposed fish stockings
Gippsland
North East
North West
Port Phillip
South West
Appendix 2 - Fish Stocking for Recreational
Figure 1 Map of Victoria showing Department of Primary Industries regional boundaries
Click the below map to view the larger version of the image in a new window.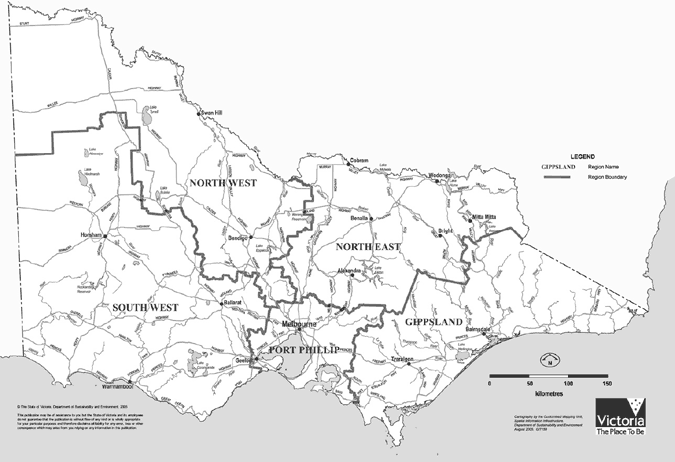 Introduction
2010 Vic Fish Stock commitments
The Vic Fish Stock commitments scheduled a total of 466,138 salmonids to be stocked in Victorian waters in 2010 and a total of 1,612,300 native fish to be stocked into Victorian public waters in 2011. Details of the proposed species and numbers to be stocked for each waterbody are presented in Appendix 1.
SUMMARY OF PROPOSED VIC FISH STOCKINGS
Proposed stocking numbers*
Total
Salmonids (2010)
Brown trout
226,250
Rainbow trout
219,888
Chinook salmon
20,000
466,138
Natives (2011)
Australian bass
64,000
Golden perch
1,119,100
Macquarie perch
10,000
Murray cod
373,200
Silver perch
36,000
Trout cod
10,000
1,612,300
Total

2,078,438
* Note: The final numbers and locations where fish are stocked may be influenced by a range of factors including:
suitability of receiving water, i.e. water quality, water levels, infrastructure maintenance, decisions of waterway managers
security of fish supply i.e. unforseen impacts on production (mortality, disease, quarantine status etc)
availability of required stocks from private suppliers.
2009 salmonid stocking outcomes
The 2009 CONS proposed 341,091 salmonids to be stocked in 2009. A total of 363,363 salmonids were stocked which exceeded this commitment. A breakdown of released salmonid species and numbers is presented below.
Salmonid stockings - total numbers stocked in 2009.
| | Brown trout | Rainbow trout | Total |
| --- | --- | --- | --- |
| Number | 152,575 | 210,788 | 363,363 |
2009 native fish stocking outcomes
The stocking plan for natives is developed from the 2008 CONS report. It scheduled 1,173,700 native fish to be stocked in 2009.
A total of 1,280,500 native fish were stocked which exceeded this commitment. A breakdown of released native species and numbers is presented below.
Native stockings - total numbers stocked 2009
| | Murray cod | Golden perch | Trout cod | Australian bass | Silver perch | Macquarie perch | Total |
| --- | --- | --- | --- | --- | --- | --- | --- |
| Number | 276,200 | 936,500 | 2,300 | 52,000 | 10,000 | 3,500 | 1,280,500 |
2010 native fish stocking outcomes
The stocking plan for natives is developed from the 2009 CONS report. It scheduled 1,420,700 native fish to be stocked in 2010.
A total of 1,690,690 native fish were stocked which exceeded this commitment. A breakdown of released native species and numbers is presented below.
Native stockings - total numbers stocked 2010.
| | Murray cod | Golden perch | Trout cod | Australian bass | Silver perch | Macquarie perch | Total |
| --- | --- | --- | --- | --- | --- | --- | --- |
| Number | 434,190 | 1,163,000 | 7,000 | 52,000 | 31,000 | 3,500 | 1,690,690 |
Past fish stocking outcomes
Since 2005 Fisheries Victoria has stocked a total of 6,490,056 native and salmonid fish into Victorian waterways. By the end of the 2010 native stocking season a total of 8,102,356 had been stocked.
Total fish stocked between 2005-2010.
| Year | Salmonids | Natives | Total |
| --- | --- | --- | --- |
| 2005 | 390,956 | 979,400 | 1,370,356 |
| 2006 | 390,999 | 600,520 | 991,519 |
| 2007 | 204,378 | 668,985 | 873,363 |
| 2008 | 367,515 | 833,250 | 1,200,765 |
| 2009 | 363,363 | 1,690,690 | 2,054,053 |
| 2010 | underway | 1,612,300 | 1,612,300 |
Background
The Vic Fish Stock regional consultative meetings (formerly known as CONS) were held in March 2010 to plan the number of salmonids to be stocked in 2010 and the number of native fish that will be stocked in 2011. The meetings have been renamed with a more descriptive title that better reflects their purpose. Vic Fish Stock is a consultative forum providing a focal point for information from various sources, including requests and viewpoints from anglers.
The Vic Fish Stock meetings provide a forum for discussions on fish stocking regimes and related recreational fisheries management issues. Five regional meetings were held. The meetings involve invited representatives from Fisheries Victoria, the Victorian Recreational Fishing representative body (VRFish), the Australian Trout Foundation, Native Fish Australia, Water Management Corporations, Catchment Management Authorities (CMAs), Department of Sustainability and Environment (DSE), and other angling clubs and associations.
Stakeholders have input into the process that determines what species go where and when through their participation in the annual Vic Fish Stock regional consultative meetings.
The meetings:
Review the current year's stocking plan and identify any modifications
Draft the following year's stocking plan
Identify other issues relevant to fish stocking
Identify current fishery management issues
This report summarises the key outcomes of the 2010 Vic Fish Stock meetings. Draft outcomes from the meetings are prepared by Fisheries Victoria and circulated to meeting participants prior to the publication of this document.
The Department acknowledges and commends the important contribution made by stakeholders who provide their time to prepare for, and attend these meetings.
INCREASING STOCKING BY 30%
The Victorian Government committed $13.5 million to enhance recreational fishing opportunities throughout Victoria, including a 30% increase in salmonid and native fish stocking between 2006-2010.
Statewide issues
The following is an annual overview of statewide inland fisheries management programs that relate to fish stocking.
Enhanced Recreational Fishing Program
The Government demonstrated its commitment to recreational fishing by allocating $13.5 million to further enhance fishing opportunities and facilities through the Enhanced Recreational Fishing Program.
Fisheries Victoria is delivering on the commitment through the following programs:
'Adopt-A-Stream' grants program
Fish stocking increased by 30%
New native fish production facility
Cracking down on fisheries crime by continuing the 13FISH offence reporting line
Improving angler access in priority areas
New recreational fishing reefs
Fish cleaning table installation program
Developing new fisheries such as Devilbend Reservoir, trout cod and Macquarie perch
Reviewing the membership of the Fisheries Revenue Allocation Committee
Classification of Victorian Inland Waters
ADOPT-A-STREAM
The Adopt-a-Stream Grants Program allows local community and interest groups to apply for dollar-for-dollar funding to conduct habitat improvement works on their local stream to benefit recreational fishing. An example of where this program has benefited anglers includes the improved bankside vegetation, instream habitat and better access along the 'Twin Rivers', Tambo and Nicholson Rivers in Gippsland.
INCREASE FISH STOCKING BY 30%
The Government has enhanced recreational fishing opportunities through a 30% increase in fish stocking over 4 years (2007/08-2010/11). The increase has included both salmonid and native fish species. Numbers have increased from a 1.1 million fish average to 1.9 million fish.
NEW NATIVE FISH PRODUCTION FACILITY IN VICTORIA
After the success of bringing trout production back 'in house' at Snobs Creek in 2005, the Government is committed to expanding its own native species for stocking into Victorian waters. This initiative will improve the reliability of supply and create further capacity to meet native fish stocking commitments. Collection of additional Murray cod and golden perch brood stock began in May 2010. Snobs Creek has been selected as the preferred location for the facility and works commenced in mid 2010.
UPGRADE OF SALMONID HATCHERY AT SNOBS CREEK
In a concerted effort to secure and expand chinook salmon and brown trout production at Snobs Creek, the salmonid hatchery is being upgraded. New salmonid incubators, heater/chiller unit, fish pump and self-cleaning tanks are being installed. New lighting is also in place to aid in maturation of chinook salmon.
CRACK DOWN ON FISHERIES CRIME BY CONTINUING THE 13 FISH REPORTING LINE
The Government is committed to continuing the 13 FISH offence reporting line and has increased the emphasis on inland fisheries crime. Fisheries Victoria uses an investigative and taskforce approach to fisheries crime. Intelligence gathered from the 13 FISH reports allows targeting of organised crime operations, including a prosecution early in 2010 of a syndicate supplying more than five tonne of illegally harvested native fish to Melbourne markets.
IMPROVING ANGLER ACCESS
This program involves funding on-ground works in improve access for recreational fishers in priority areas. Works have been completed at Lake Purrumbete (Camperdown) and Aringa Reservoir near Port Fairy. Works are in progress on the Howqua, Jamieson and Barham rivers.
As part of this program the Guide to Inland Angling Waters of Victoria has been updated and a new online version became available in April 2010. It can be found at www.depi.vic.gov.au/fishing-and-hunting/fishing-guides/inland-angling-guide
NEW RECREATIONAL FISHING REEFS
Three new reefs have been created for recreational fishers at Aspendale, Seaford and Frankston in Port Phillip Bay. These reefs are increasing angling opportunities and are subject to a comprehensive monitoring trial.
FISH CLEANING TABLES PROGRAM
The Government has committed $450,000 over three years to install new fish cleaning tables on or near jetties and boat ramps in popular fishing locations throughout Victoria. Eleven tables had been installed at a range of key fishing locations by April 2010. Plans to install tables at a number of other locations across Victoria are underway and further installations will occur throughout 2010.
DEVELOPING NEW FISHERIES
A key component of the Enhanced Recreational Fishing Program is to investigate and develop new fisheries and improved fishing opportunities across the state.
Initiatives include:
Improving fishing opportunities in Nagambie Lakes through stocking native fish
Development of trout cod recreational fisheries at Lake Kerferd and Lake Sambell
Developing a Macquarie perch recreational fishery
Stocking Australian bass in Gippsland
Creating a recreational fishery in Devilbend Reservoir near Hastings
Investigating the feasibility of a catfish stocking program
BASS STOCKING UPDATE
Many anglers call Australian bass the best freshwater sport fishing species in Victoria. The release of more than 50,000 Australian bass into Lake Glenmaggie and Blue Rock Dam signals the successful return of the stocking program to Gippsland. Return to full scale stocking is planned as the required locally sourced broodstock is obtained. Other waters will be stocked with bass in the upcoming years as fish become available. A study is also underway to investigate the genetic composition of Australian bass populations in Victoria.
DEVELOPMENT OF MACQUARIE PERCH FISHERY
Macquarie perch production and stocking options were developed after a workshop in December 2009. The workshop brought together the skills and knowledge of relevant agencies and organisations including the Department of Sustainability and Environment, Native Fish Australia, VRFish and NSW Fisheries. Successful procurement of Macquarie perch fry led to initial releases into Expedition Pass Reservoir near Castlemaine and Hollands Creek. The stocking marked the creation of a new recreational fishery at Expedition Pass. The breeding program is also developing techniques to improve captive breeding of Macquarie Perch.
DEVELOPMENT OF CATFISH FISHERY
Catfish are a popular angling species in Victoria and currently allowed for take in the Wimmera Basin. A scoping study on freshwater catfish breeding/stocking based on consultation with recreational anglers has been initiated. The aim is to improve the conservation status of catfish while establishing new recreational fisheries for the species.
CLASSIFICATION OF VICTORIAN INLAND WATERS
Fisheries Victoria has prepared a draft Inland Waters Classification Report which classifies all waters as either trout, native, or mixed fisheries. The report was prepared in consultation with a Reference Group comprised of anglers with expertise in trout, native and mixed fisheries. The draft report was released for public comment in June 2010.
REVIEW OF MEMBERSHIP OF THE FISHERIES REVENUE ALLOCATION COMMITTEE
The consultative arrangements for Victoria's Fisheries Resources: Policy Statement (2008) set the direction for future engagement with stakeholders, including the establishment of a new Recreational Fishing Licence (RFL) Working Group to replace the previous Fisheries Revenue Allocation Committee. This group was appointed in 2009 and will advise the Minister on priority projects for funding with recreational fishing licence revenue.
PURRUMBETE BOAT RAMP
Local and visiting anglers now have direct access to thousands of trout stocked into Lake Purrumbete by Fisheries Victoria with the addition of a new, temporary boat launching ramp. $50,000 was contributed from the Enhanced Recreational Fishing Program towards the construction and associated infrastructure for the ramp, improving angler access to the water. The site is less than 400 m north of the Lake Purrumbete Caravan Park and is ideal for launching as it is built on a rocky platform.
For more information on the Enhanced Recreational Fishing Program go to www.depi.vic.gov.au/fisheries/recreational-fishing
Promoting recreational fishing in bushfire affected areas
Following the devastating Black Saturday bushfires, Fisheries Victoria has been helping affected fisheries recover and encouraging recreational fishers to return to these areas.
Since February 2009, Fisheries Victoria has assisted rural communities, anglers, fishing dependent businesses and trout growers by:
Stocking 2,300 ready-to-catch trout into the Goulburn River between Eildon and Molesworth, with 10,000 more trout to be released in 2010 and annually thereafter to at least 2013 (see below)
Stocking ready-to-catch golden perch and trout into Marysville Lake
Boosting stocking of Murray cod and brown trout into Lake Eildon (extra 50,000 Murray cod and 20,000 brown trout released in 2010)
Donating 500,000 trout eggs and 20,000 fingerlings to trout growers (private hatcheries) in the Northeast
Promoting recreational fishing throughout the area with advertisements and information in print and television media
Supporting the Murrindindi / Mitchell Bushfire Recovery Committee for the Big Fish competition
Further enhancement of selected Family Fishing Lakes within the bushfire affected area is planned for the upcoming year. This will take the form of additional stockings in these popular and easily accessible waters.
GOULBURN STOCKING TRIAL
In 2009 a 5-year trout stocking trial commenced in the Goulburn River to boost trout stocks in one of Victoria's most popular trout fisheries and to promote angling whilst nearby, bushfire affected fisheries recover. The initial release included more than 2,300 catchable brown and rainbow trout. Some of these fish were between 3 and 4 kilograms. The fish liberations coincided with the trout open season and other high-use dates. Fish are fin-clipped so they can be easily distinguished from wild fish that spawn in the Goulburn River during the annual closed season.
An angler diary program is assessing the benefits of stocking trout into the river and the contribution they make to anglers' catches.
Early results from this monitoring, and positive angler feedback, has resulted in the stocking numbers being lifted to annual stocking of 10,000 brown or rainbow trout (depending on availability) for the remainder of the trial. The results of the monitoring program may be used to inform any future decisions regarding changes to the current stocking levels and species.
PROMOTION OF RECREATIONAL FISHING IN BUSHFIRE AFFECTED AREAS
To encourage anglers back to the region, advertisements were run in the Herald Sun's Fishing Guide for families and a number of popular fishing magazines. Promoting Lake Eildon's emerging golden perch fishery has been a focus with feature articles in fishing print and television media. Adding to this, Eildon Pondage and Lake Hyland hosted Family Fishing Festivals in autumn 2010, raising their profile as family friendly fishing destinations. Fisheries Victoria is also assisting with the Murrindindi and Mitchell Bushfire Recovery Committee to organise a 'catch a tagged fish competition' that is planned for October 2010 in the Goulburn River (Seymour to Alexandra) and Lake Eildon.
Recreational Fishing Licence Trust Account
Every year the Victorian Government, through the Recreational Fishing Licence Trust Account, disburses revenue derived from the sale of Recreational Fishing Licences to projects that will improve recreational fishing in Victoria. The Trust has allocated an annual grant of $200,000 to Fisheries Victoria to secure additional native and salmonid fish for the statewide stocking program. These funds purchased fish in addition to the 30% increase in stocking requirement.
Wimmera River stocking
Fish were stocked in the Wimmera River in November 2009 for the first time since 2006 due to good rain in the catchments. Children from Dimboola Primary School released 10,000 golden perch at Dimboola. An additional 8,800 golden perch were released into the Wimmera River in April 2010. Water savings from the Government's improved irrigated water reticulation, and completion of the Wimmera-Mallee Pipeline Project will mean the river can receive additional flows. This will increase water security for the river and fish habitat.
Go Fishing In Victoria
In 2006 the State Government committed $3.2 million over four years to the Go Fishing in Victoria (GFIV) initiative. As a result, recreational fishing facilities and infrastructure at selected sites have been improved and opportunities for fishing as a family activity have been strongly promoted. This has led to an increase in the utilisation of Victoria's fisheries by local and visiting anglers.
PREMIER LAKES
Victoria now boasts five Premier Lakes which have been developed to encourage families and new anglers to go fishing. These lakes offer access for anglers of all ages and abilities, and feature toilets, barbecues, picnic tables and playground equipment.
The five Premier Lakes are:
Lillydale Lake
Eildon Pondage
Kennington Reservoir (Bendigo)
Jubilee Lake (Daylesford)
Hyland Lake (Churchill).
Premier Lakes are stocked at least four times per year (subject to suitable water conditions).
An annual Family Fishing Festival has been held at each of the Premier Lakes over the last four years.
GO FISHING IN VICTORIA PRODUCTS
A wide range of informative products have been designed to assist budding fishers and experienced anglers to make the most of Victoria's wide range of recreational fisheries.
These include:
Go Fishing in Victoria Calendars
Family Fishing Guide
Let's Go Fishing Cards – eight illustrated fish species cards
for kids
Let's Go Fishing in Port Phillip Bay – a family guide
Let's Go Fishing in Western Port – a family guide.
To cater for more experienced anglers, sections of three Victorian rivers are being developed in partnership with local stakeholders and are being promoted as Premier Rivers. The three rivers are:
Hopkins River (Warrnambool)
The estuarine section is known for producing quality fishing for species such as black bream, estuary perch and mulloway.
Goulburn River
Offering a wide range of fishing opportunities and challenges including a productive trout fishery between Eildon and Alexandra and exciting fishing for Murray cod and golden perch around Shepparton.
Kiewa River
Flowing through the picturesque Kiewa Valley in north-eastern Victoria. The cooler sections below Mount Beauty provide quality trout fishing and Murray cod can be targeted in the lower section around Wodonga.
Funds are being invested into on-ground works along the three nominated rivers to improve access for anglers and provide additional recreational fishing facilities.
Once completed, an informative guide will be developed for each of the river stretches identifying key access points and the type of fishing experience and facilities that they provide.
Guides for the Hopkins River and the Upper Goulburn River (Eildon to Alexandra) are now available. Guides for the Lower Goulburn River (Murchison to above Shepparton) and the Kiewa River are expected to be produced by the end of 2010.
WANT TO KNOW MORE?
Call the DPI Customer Service Centre on 136 186 or visit www.depi.vic.gov.au/fisheries/recreational-fishing/recreational-fishing-guide
Fisheries Victoria contacts
For Inland fisheries management issues:
Manager Inland Fisheries: Anthony Forster 03 9658 4375
General: John Douglas 03 5772 0254
For regional fisheries management issues:
General: John Douglas 03 5772 0254
Gippsland: Dick Brumley 03 5155 8108
North East: Joy Sloan 02 6043 7929
North West: Joy Sloan 02 6043 7929
Port Phillip: Peter Lawson 03 5226 4688
For compliance issues:
To report fisheries offences call 13 FISH ((13 3474).
For state-wide fisheries management issues:
Fisheries Victoria, 1 Spring Street, Melbourne: 03 9658 4375
For general enquiries:
Call the DPI Customer Service Centre on 136 186 or visit www.depi.vic.gov.au
Appendix 1 - Proposed fish stockings
USING THE TABLES
The tables present a summary of five Vic Fish Stock consultation meetings held across regional Victoria. They reflect the key outcomes from minutes recorded at each meeting that were circulated to all participants prior to finalisation. Proposals for stockings were received prior to meetings. These proposals were discussed and a final position determined by consensus. The outcome column represents the shared decision of the meeting attendees resulting from this assessment.
Gippsland
View the Gippsland proposed fish stockings table.
North East
View the North East proposed fish stockings table.
North West
View the North West proposed fish stockings table.
Port Phillip
View the Port Phillip proposed fish stockings table.
South West
View the South West proposed fish stockings table.
Appendix 2 - Fish Stocking for Recreational Purposes Policy
1. Introduction
Fisheries Victoria stocks over 1 million native and salmonid fish per annum into public waters throughout Victoria for recreational fishing purposes. This policy provides guidance in the setting of priorities for stocking of Victorian waters.
2. Background
Annual stocking plans are developed through a consultative process known as Vic Fish Stock (formerly known as CONS), involving representatives from Fisheries Victoria Fisheries Victoria the Victorian Recreational Fishing Peak Body (VRFish), Water Management Authorities, Catchment Management Authorities (CMAs), the Department of Sustainability and Environment (DSE), and other relevant stakeholders. The Vic Fish Stock process nominates waters to be stocked, species composition, numbers, size, timing and priority for each water. Actual numbers of fish stocked may vary from those nominated in response to environmental or other factors.
Waters (or a section of a waterway if barriers exist to prevent movement of fish) will not be stocked when there is reasonable evidence that the fish species (native or introduced) to be stocked may constitute an unacceptable risk to an existing threatened species or community (e.g. listed under the Flora and Fauna Guarantee Act (FFG) 1995 or the Environment Protection and Biodiversity Conservation (EPBC) Act 1999). This is consistent with the Guidelines for Assessing Translocations of Live Aquatic Organisms in Victoria (2003).
3. Scope
This policy defines the principles and criteria used by Fisheries Victoria when prioritising waters in the recreational fish stocking program. It is intended to assist Fisheries Victoria to respond to changes in environmental conditions such as water quality and quantity, drought and bushfires, altered management practices by water and land managers, and changing stakeholder values and expectations.
This policy applies to stocking in all Victorian waters except those designated as Premier Lakes, as part of the 'Go Fishing in Victoria' initiative, which is due for completion in June 2011.
This policy does not apply to stocking for conservation purposes as this process is managed by the DSE.
The role of Fisheries Victoria
The role of Fisheries Victoria is to manage fisheries within an ecologically sustainable development framework. Key activities include securing the resource, sharing the resource and growing the resource. In relation to managing inland recreational fish stocking, Fisheries Victoria's key roles are to:
Communicate, and where appropriate, consult with stakeholders.
Increase and quantify angler satisfaction levels.
Advocate for measures to preserve and improve recreational fishing opportunities.
Maximise the benefits from recreational stocking within a restricted budget.
Coordinate and invest in research to assist fisheries management decisions.
Promote recreational angling as a healthy recreational activity.
Responsibility for securing the resource is shared with other agencies such as DSE, water and land management agencies and CMAs. Matters not under the control and management of Fisheries Victoria include access to water storages, allocation of water flows, habitat protection/improvements or waterway health.
Fisheries Victoria develops strategic stocking programs that:
Maximise the returns to recreational anglers.
Create public value.
Enhance and support natural recruitment.
Are consistent with the translocation protocols and guidelines.
Provide for equitable access for a range of stakeholders.
Satisfy cost-benefit analysis.
Consider long-term sustainable management strategies.
Stocking is conducted in accordance with annual native and salmonid stocking plans. The stocking plans are developed utilising information from a range of sources, including advice provided by the CONS process.
4. Definitions
For the purposes of this policy, the following terms are defined:
Angler access – general authorisation by the water and/or land manager to allow fishing activities taking into considering any restrictions such as fishing methods, areas and methods of entry and times.
Angler popularity – An assessment of how important the water is considered in both local and regional context, not necessarily based purely on numbers of visitors but how highly it is valued by anglers.
Authority to Stock – approval from the relevant resource manager to allow translocation of fish to a particular water body
CONS – Regional Fisheries Consultation meetings held annually that determine annual stocking plans and nominate stock assessments to be undertaken. Renamed Vic Fish Stock in 2010.
Conservation purposes – A need to maintain or enhance populations of threatened or endangered species through stock enhancement.
Endemic species – species unique to a defined place or region.
Family Fishing Lake – small lake, impoundment or retarding basin generally less than 3 ha in area. These waters are stocked with rainbow trout prior to second and/or third term school holidays or Fishing Week events to provide angling opportunities for junior anglers, families and people with limited mobility.
Fish sizes

fry (<5g)
fingerlings (5-30g)
yearlings (trout -30g-100g, natives - >200g)
advanced (100 – 200g)
premier and ex-broodstock (>1000g)

Inland fishery – one conducted in inland waters. Inland waters, as defined in the Fisheries Act, include all waterways, public dams, swamps, billabongs and lakes other than the Gippsland Lakes, Lake Tyers, Mallacoota Lake and Wingan Inlet. It does not include any water or waters on private property.
Location infrastructure – describes the locations capacity to cater for a variety of fishing methods and abilities, and the facilities available i.e. boat ramps, fishing platforms, all purpose access, toilets, liberation truck access etc.
Native species – fish species that naturally occurs within Victoria.
Premier Lakes – part of the 'Go Fishing in Victoria' initiative and include Lillydale Lake, Lake Jubilee (Daylesford), Hyland Lake, Eildon Pondage and Kennington Reservoir. These waters are stocked more frequently and with larger fish.
Premier Rivers – are part of the 'Go Fishing in Victoria' initiative. These waters are not stocked as part of the initiative.
Productivity – refers to a particular waters capacity to produce and sustain healthy populations of fish.
Salmonids – In this document, only refers to rainbow trout, brown trout and chinook salmon;
Self Sustaining populations – populations of either native or salmonids that are able to successfully support an active fishery under average environmental conditions;
Stocking – is a subset of translocation and refers only to the release of hatchery-reared fish.
Suitable receiving waters – those waters with sufficient angler access where the habitat is suitable for sustaining fish populations and where water quality and quantity is sufficient to allow the stocked fish to enter the fishery.
Translocation – the deliberate human-assisted movement of wild-fish or hatchery-reared fish from one location to another
Translocation protocols – protocols prepared under the 'Guidelines for Translocations of Live Aquatic Organisms in Victoria' relevant to stocking.
5. Principles for stocking of waters to enhance recreational fisheries
Waters will be considered for stocking with native or salmonid fish species where all of the following conditions are satisfied:
(a) Authority to stock has been provided by the relevant resource manager;
(b) Suitable receiving waters exist for species to be stocked;
(c) Stock assessments determine self-sustaining populations do not exist or should be augmented for recreational fishing purposes;
(d) The translocation is in accordance with translocation guidelines, including relevant policies.
(e) The increased public value outweighs the cost of stocking as evidenced through angler visitation, demand and return to anglers.
A key component of the suitability of receiving waters is the likelihood that water levels will be appropriate for angling. Water levels will be assessed as 'permanent', 'mostly permanent', 'intermittent' and 'unreliable'. Stocking will not be considered for 'unreliable' waters.
Proposals to stock in any water other than those stocked since 1995 or with any non-native species other than rainbow trout, brown trout and chinook salmon will need to comply with the Translocation Guidelines.
Once the principles for stocking of waters have been satisfied, Fisheries Victoria will then prioritise a potential stocking water according to its social value and economic return. Premier waters, Family Fishing lakes and those waters specified in Government commitments are deemed to hold high social and economic values and will be given priority in determining the Fisheries Victoria annual stocking plan. The priority for stocking other potential waters is determined by the 'Criteria for Prioritisation of Waters for Stocking'.
CRITERIA FOR PRIORITISATION OF WATERS FOR STOCKING
The criteria that will be used to prioritise waters for stocking, in order, are:
(a) Productivity of the water.
(b) Angler popularity and usage.
(c) Proximity to similar angling opportunities.
(d) Level of angler access.
In circumstances where the quantity or size of fish available for stocking falls below that specified in the annual stocking plan (eg through the impacts of drought on fish production), Fisheries Victoria reserves the right to allocate the available stock to ensure that:
(a) Enough fish are stocked into a particular water to provide a reasonable return to the angler.
(b) An equitable distribution of available fish is achieved across waters (this may include regional equity).
ADAPTIVE MANAGEMENT
Decisions to stock waters are made in a complex and changing system. To ensure that the social and economic return from stocking is maximised, assessments will be made prior to each liberation event so that the principles and criteria for stocking continue to be met. Fisheries Victoria reserves the right to vary the stocking regime accordingly.
Fisheries Victoria also reserves the right to decide what fish species are to be stocked in specific waters and the size those fish are to be when released, based on suitable receiving waters. Where appropriate, consultation with stakeholders will occur prior to this decision being made. In the event that insufficient fish are available from Fisheries Victoria hatcheries, additional fish may be sourced from private or interstate hatcheries, subject to meeting translocation policies.
DECOMMISSIONING
Once notification from the relevant water authority has been received by Fisheries Victoria of an intended decommissioning of a water body, further stocking will be investigated and reviewed after future water management regimes have been clearly identified
6. Policy related documents
Fisheries Victoria Management Report Series Regional Fisheries Consultations Meeting Outcomes (annual)
Protocols for the Translocation of Fish in Victorian Inland Public Waters.
Guidelines for Assessing Translocations of Live Aquatic Organisms in Victoria.
Fisheries Act 1995.
Fisheries Regulations 1998.
FV policy Responding to the Impacts of Drought and its Consequences on Inland Recreational Fisheries
7. Further information
Enquiries regarding this procedure should be directed to:
John Douglas
Senior Program Officer – Inland Fisheries
Fisheries Victoria
(03) 5772 0254