Two cars seized for undersize snapper hauls
14 February 2020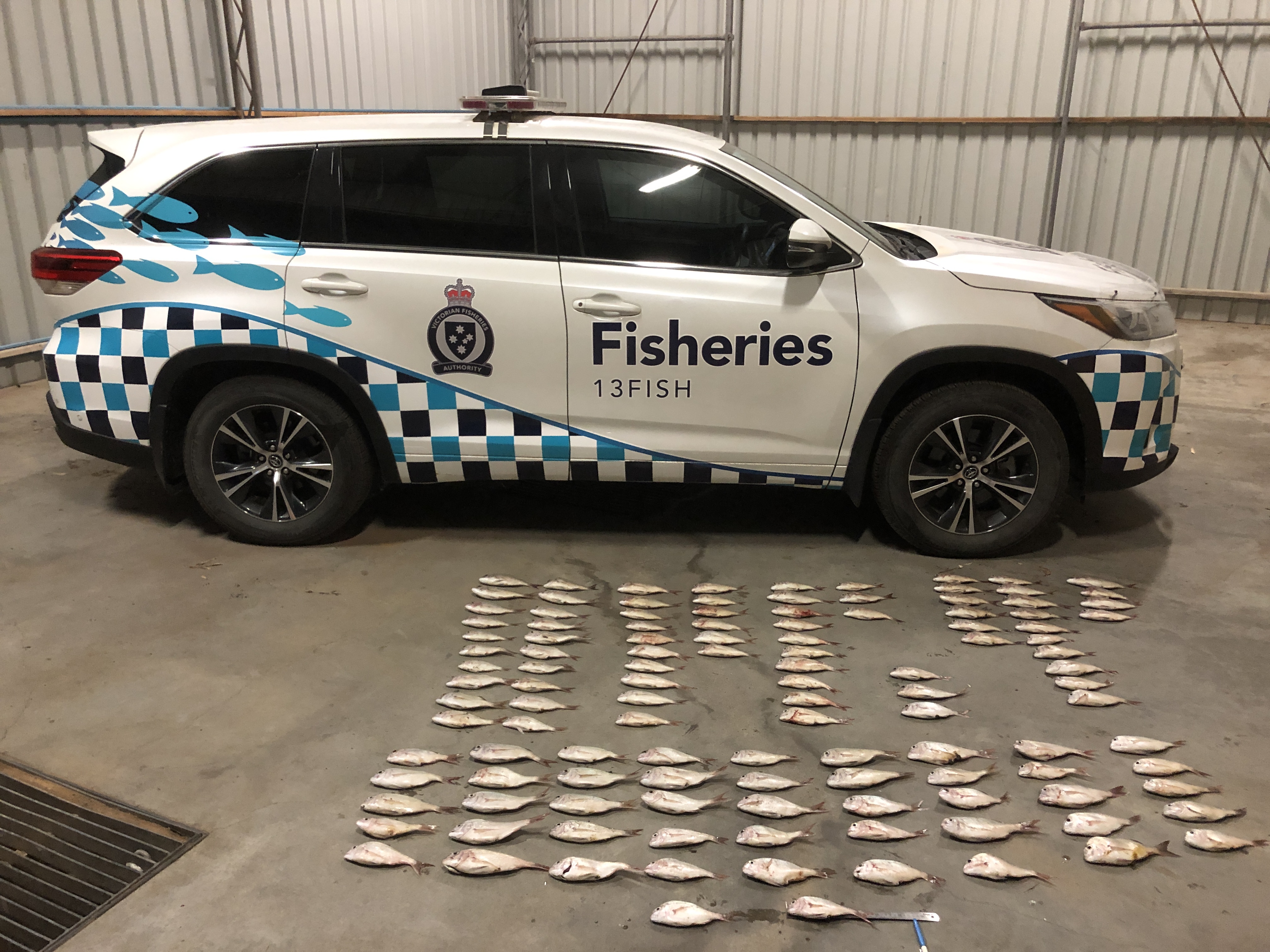 Two cars and illegal hauls of 119 undersize snapper were seized by Fisheries Officers at Port Melbourne following the apprehension of four men on Monday night.
Victorian Fisheries Authority Director of Education and Enforcement Ian Parks said a member of the public called 13FISH to report the men who were fishing at a popular spot, west of Princes Pier.
"Upon arriving at the scene, Fisheries Officers conducted surveillance to identify the four men, aged 18, 39, 42 and 53 from Preston, Thomastown and Roxburgh Park," Mr Parks said.
"Two of the men left the fishing spot in a Pajero and were intercepted shortly after by other officers nearby who had been called in.
"A search of the Pajero revealed 47 snapper, all undersize.
"The daily bag limit for snapper is 10 per person, of which no more than 3 can be 40cm or more.
"Officers seized the 47 snapper, two fishing rods and the Pajero on the spot.
"Upon approaching the other two men still fishing from the rocks, officers allegedly saw them throw three fish into a rocky crevice. They were retrieved and found to be undersize snapper.
"During surveillance, officers had observed the men return to the car park so suspected there were more fish in a vehicle, however the duo did not admit to owning a car and said they had travelled by train.
"A search of their identification and a registration check revealed a Holden Astra belonged to one of the men and was in the car park.
"The man then allegedly admitted to owning the car, which was found to contain 72 snapper, all undersize. The fish measured between 17.9cm and 27.4cm.
"Officers seized the snapper, two fishing rods, a cooler and the Astra."
The four men will be charged on summons with various offences including taking and possessing undersize fish, taking more than the catch limit, and concealing their catch from Fisheries Officers.
To report suspicious or illegal fishing activity call 13FISH (133474) anytime. You can remain anonymous. Make the call and make the difference!