Historic fish stocking in the Barwon River
08 January 2019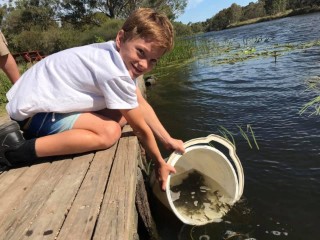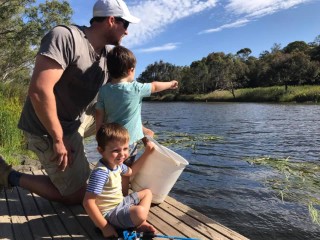 Recreational anglers on the Bellarine have reason to celebrate thanks to the inaugural stocking of estuary perch into the Barwon River.
Victorian Fisheries Authority (VFA) CEO Travis Dowling said 45,000 estuary perch were released today near Highton. These fish join 30,000 others that were stocked in December near Queens Park.
"This historic stocking has been funded by fishing licence fees and the State Government's Target One Million plan that aims to get more people fishing, more often," Mr Dowling said.
"In addition to the Barwon River, we have also recently stocked the Maribyrnong River (133,000) and Snowy River (12,500) for the first time ever with estuary perch.
"Last year we stocked a record six million fish and thanks to the government's ongoing commitment to recreational fishing, we'll be increasing that to 10 million fish by 2022.
"This is good news for everybody who loves casting a line in Victoria."
Mr Dowling said Victoria was the only state to stock estuary perch on a large scale and that since 2012 more than 800,000 fish have been released into 18 waterways.
"The hard work is paying off and growth rates have exceeded our expectations. We're now seeing estuary perch over 27 cm caught in the stocked waters of Devilbend Reservoir, Albert Park Lake, Werribee River, Lake Hamilton and Lake Struan.
"Huge thanks go to the competition anglers and volunteers who help us every year catch the broodfish used in our perch breeding program. Their passion and commitment to the cause is central to the success of the program and our mission to improve recreational fishing for all Victorians."
Mr Dowling said the perch stocked into the Barwon River will take around three years to reach a catchable size.
"If you're itching to cast a line now, there's no need to wait because the lower Barwon and estuary has good numbers of bream and the occasional trophy sized mulloway to try your luck on."
For more information on our perch stocking program visit: www.vfa.vic.gov.au/estuaryperch