Boat seized for illegal calamari catches
01 November 2019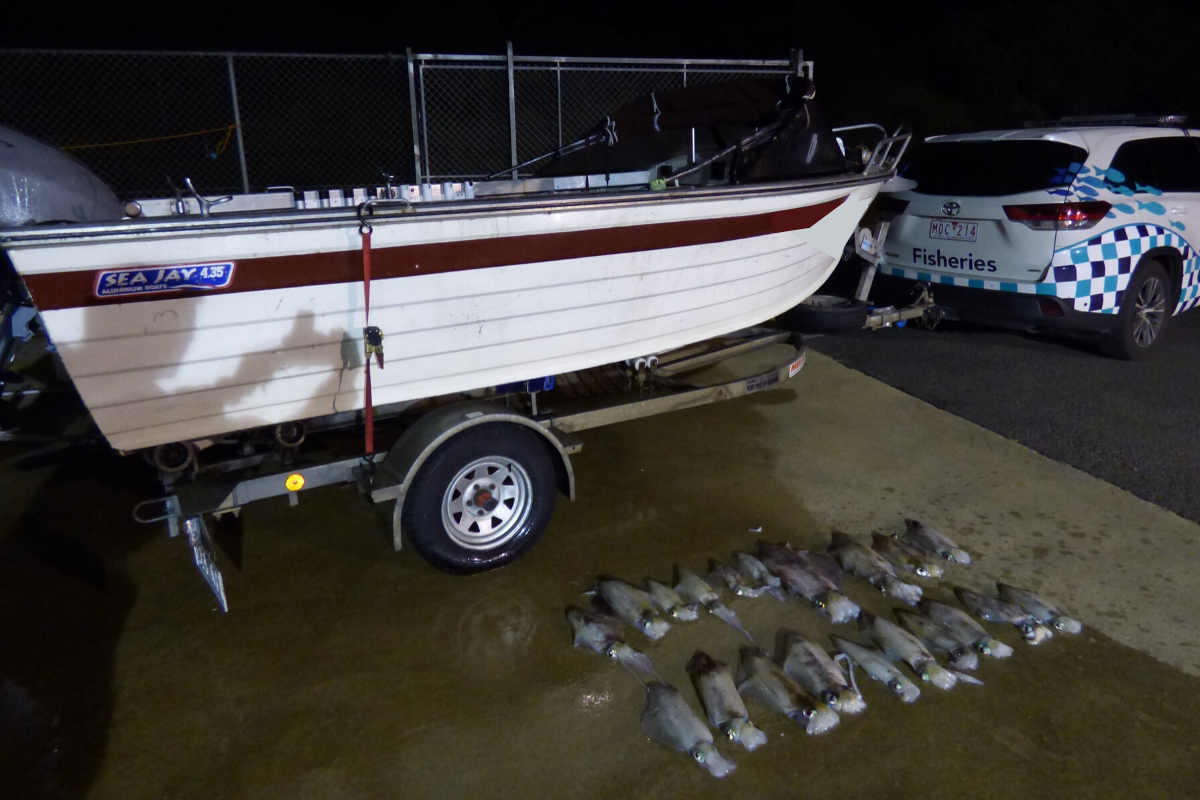 Queenscliff's fantastic run of calamari has proved too tempting for a St Albans man who was apprehended on Monday night by Fisheries Officers, had his boat seized and will face court on several charges relating to exceeding the bag limit repeatedly.
Victorian Fisheries Authority Director of Education and Enforcement Ian Parks said the man was observed on three separate days in October during Operation Focus allegedly taking 17, 33 and 38 calamari.
"The daily bag limit is 10 per person," Mr Parks said.
"On one occasion, the man allegedly made two trips in one day with his wife. On the first trip between 6.25am and 10am, the man was observed taking five calamari. He launched his 4.35-metre aluminium boat again at 3.30pm and allegedly took another 12 calamari, including some from within the Port Phillip Heads Marine National Park where fishing is not permitted.
"A week later, the man allegedly took eight calamari in the early morning. He returned to the boat ramp to pick up his wife, took another eight, then retrieved his boat and left Queenscliff. In the afternoon, he returned with his wife and allegedly took 17 more calamari, making 33 for the day.
"On Monday, the man allegedly took 18 calamari, retrieved his boat and returned to Melbourne. He came back to Queenscliff in the afternoon with his wife and allegedly took 20 more, making 38 in total.
"Soon after, Fisheries Officers intercepted him at the boat ramp. He initially claimed the 20 calamari were all they'd caught that day and were taken by both himself and his wife. However, during a subsequent interview the man admitted to taking all the calamari himself and being fully aware of the daily bag limit.
"His boat, estimated to be worth $7000, fishing gear and calamari were seized on the spot and the man will be charged on summons with exceeding the calamari catch limit on three occasions, and various other offences relating to fishing in a marine park and boat safety equipment."
Mr Parks emphasised that your catch is your own and you cannot claim them under someone else's daily bag limit who is aboard your boat.
"Furthermore, multi-tripping to exceed the daily catch limit and appear compliant at the boat ramp is a deliberate and serious attempt to deceive and is unfair to legitimate recreational and commercial fishers who abide by the rules."
To report suspicious or illegal fishing activity call 13FISH (133474) anytime. You can remain anonymous. Make the call and make the difference.