VFA Strategic Plan 2019-2024
The Victorian Fisheries Authority is proud to launch the Victorian Fisheries Authority (VFA) Strategic Plan 2019 – 2024.
This is a plan is designed to clearly reflect our commitment to all stakeholders by setting out the VFA's strategic priorities for the next five years. It identifies many opportunities ahead for all Victorians involved in fisheries. It also looks beyond 2024 as we continue to build the foundation for fantastic fishing and access to locally caught fish in Victoria.
This Strategic Plan supports our vision of healthy and sustainable fisheries for all Victorians, by setting out strategic priorities under four high level focus areas:
Sustainable and healthy fisheries
Social and economic prosperity
Effective and innovative authority
Strong and collaborative relationships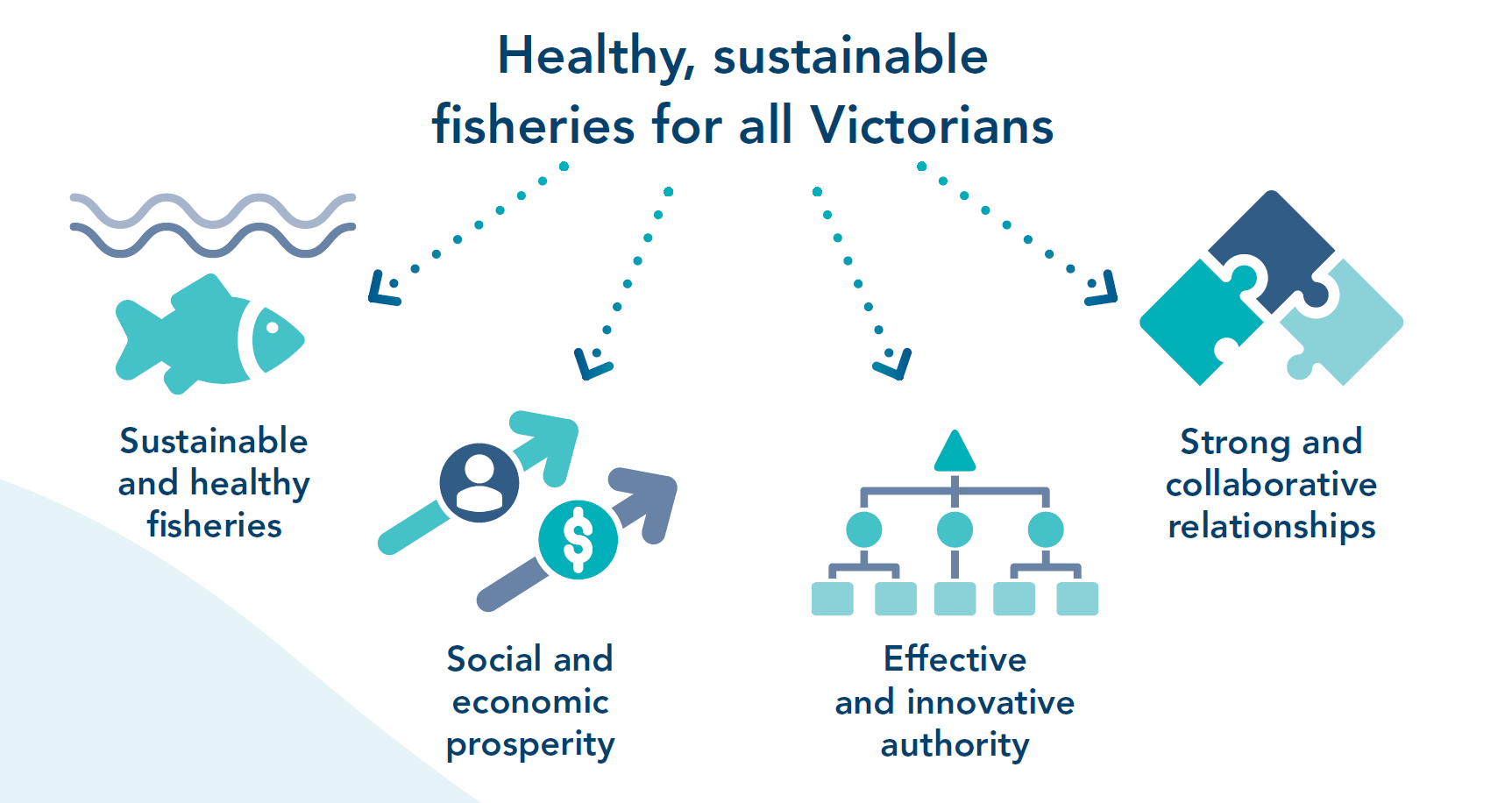 This Strategic Plan commits to increasing the number and diversity of people fishing and enjoying Victoria's local seafood, growing healthy and sustainable fisheries and aquaculture sectors and contributing to Victoria's social and economic prosperity.
Every Victorian should have the opportunity to fish, and the VFA is proactive in encouraging people from all different backgrounds to have a go. The State Government has extended its commitment to recreational fishers in Victoria, building on its Target One Million plan to grow participation to one million anglers by 2020, getting more Victorians fishing, more often.
This Strategic Plan sets strategies to ensure that, through value adding and innovation, Victoria's fisheries and aquaculture sectors are dynamic and resilient, offering great economic opportunities and career pathways for Victorians.
We want Victoria to be renowned as a great fishing destination. The development of ten high profile fishing destinations across Victoria and the promotion of the fantastic local seafood experience will provide a boost for regional tourism.
This is a time of great opportunity for Victorian fisheries. This Strategic Plan takes advantage of the many great opportunities ahead, describing a clear direction for us all to work towards. The VFA is committed to working with all stakeholders and creating effective partnerships in its implementation.
Download a copy of the Victorian Fisheries Authority Strategic Plan 2019 - 2024 (PDF - 4.0 MB)
Download a copy of the Victorian Fisheries Authority Strategic Plan 2019 – 2024 2-page Summary Document (PDF - 66.8 KB)