Victorian Giant Crab Fishery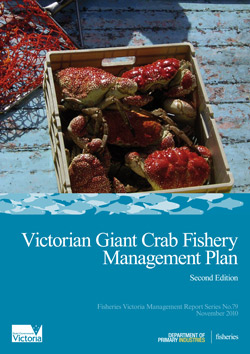 The Victorian Fisheries Authority is pleased to announce that the Victorian Giant Crab Fishery Management Plan (Second Edition) has been released. This edition of the management plan updates the policies, initiatives and directions for managing the commercial giant crab fishery that were contained in the first edition declared in 2003.
This management plan sets out the strategies and actions for managing the giant crab fishery for at least the next five years and has an emphasis on rebuilding stocks. It specifies a process for annually reviewing the Total Allowable Commercial Catch and can evolve in response to new information and technologies. Major stakeholders in the fishery will continue to be invited to participate in annual stock assessment and TACC-setting meetings.
The management arrangements for the giant crab fishery are not changed under this updated edition of the plan.