North East Fishery Management Plan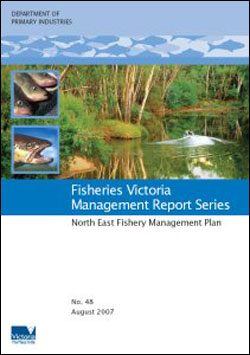 The North East Fishery Management Plan (the Plan) was declared on 23 August 2007.
The purpose of the Plan is to specify the objectives, strategies and performance indicators for managing recreational fishing activities in the rivers and impoundments across the North East region for the next five years.
The Plan describes:
The key recreational fishing waterways of the North East region;
Current management arrangements for fishing activities and for other relevant issues that may impact on fisheries resources in the North East Fishery;
Goals, objectives, performance indicators and actions for management of fishing activities in the North East Region; and
A process for addressing other resource management issues that can impact recreational fisheries.
The Management Plan was developed in accordance with Part 3 of the Fisheries Act 1995 (the Act) and the process was overseen by the Fisheries Co-Management Council.
The Management Plan was prepared with assistance from a Steering Committee which had an independent chair and representatives from the Victorian Recreational Fishing peak body (VRFish), the Fisheries Co-Management Council, Goulburn-Murray Water, the Department of Sustainability & Environment, the North East Catchment Management Authority and Aboriginal groups. All public submissions received through the planning process were considered by the Steering Committee, the Executive Director Fisheries Victoria and the Minister for Agriculture.
A copy of the Management Plan can be obtained by downloading the PDF file as attached below or by contacting the department Customer Service Centre on 136 186.

North East Fishery Management Plan