Giant spider crab movement report
The VFA has produced a report into the movement of giant spider crabs.
Click the links below to view the report in word and PDF formats:
Giant Spider Crab Movement Report (WORD - 9.8 MB)
Giant Spider Crab Movement Report (PDF - 1.4 MB)
Summary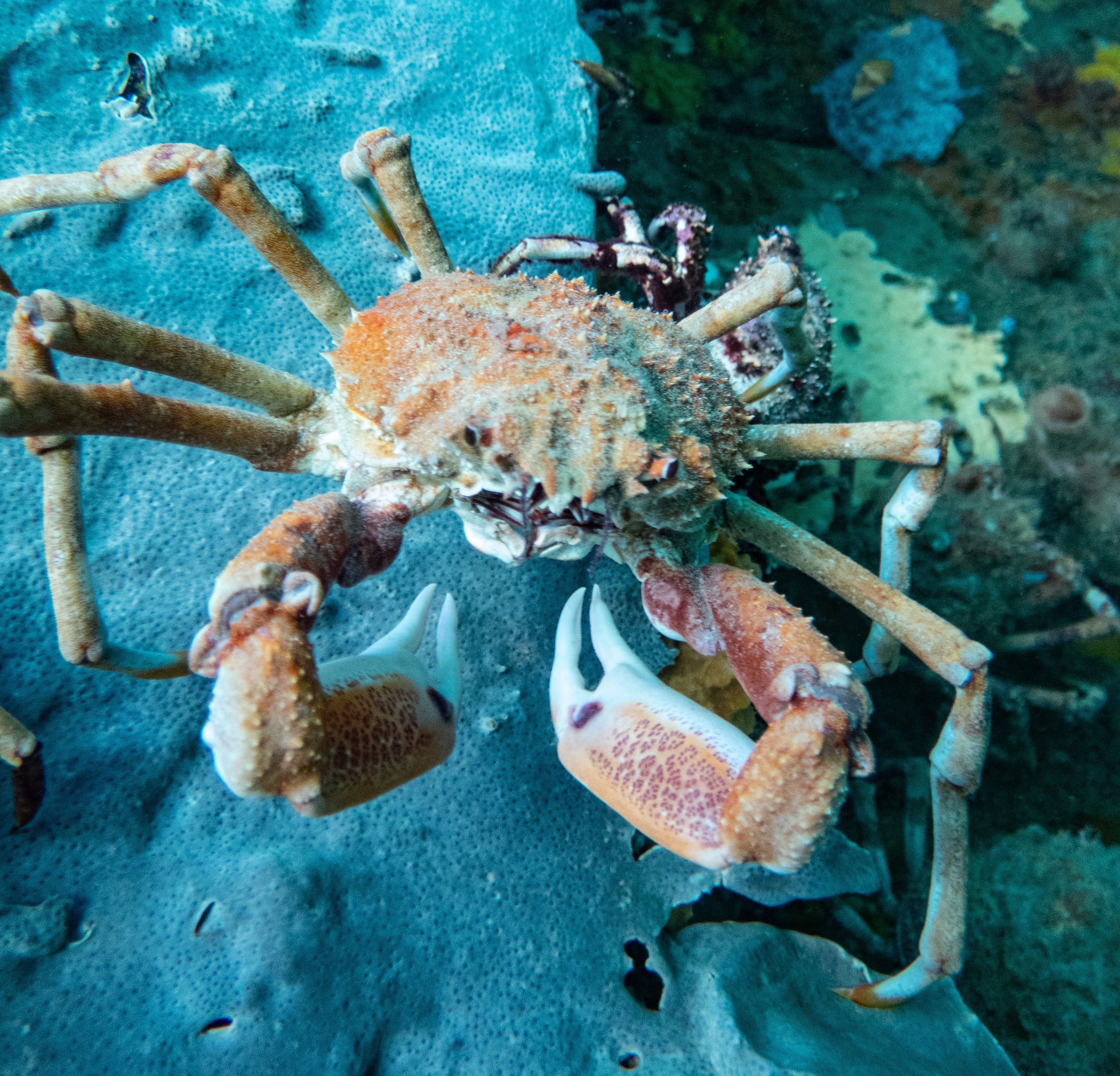 In Port Phillip Bay during the cooler winter months, Giant spider crabs (Leptomithrax gaimardii) aggregate in large numbers thought to be associated with moulting and reproduction. Aggregations occur at multiple locations in the bay, including a regular aggregation close to Rye or Blairgowrie pier. This is the only well-known crab aggregation that is regularly accessible to both pier-based recreational divers, fishers and public. There is high public interest in this species from stakeholder groups, highlighting the importance of careful and informed future management of the fishery. The Victorian Fisheries Authority (VFA) is responsible for the management of fishing for Giant spider crab and providing for diverse fishing opportunities for future generations to enjoy. The VFA adopts a balanced management approach to the Giant spider crab fishery, incorporating science and providing for diverse community values. The daily catch and possession limit for spider crabs, including giant spider crabs, was recently halved from 30 to 15 to better balance spider crab values and more equitably share spider crabs between fishers and other stakeholders. The Victorian Fisheries Authority believes that the Giant spider crab stock is essentially at virgin biomass levels given the low recreational catch and the spatially and temporally discrete fishing location/periods.
Determining movement characteristics and stock structure of a fishery is important as it defines a species distribution, individual stock boundaries, connectivity from one region to another, and is vital for fisheries management purposes. Gaining a greater understanding of stock structure and connectivity of a species allows fisheries managers to objectively determine if a species should be managed as a single, or multiple entities. For example: Giant spider crabs have a wide distribution across south east Australian marine waters, being common in shallow waters but found to more than 800m depth. If a stock of Giant spider crabs within Port Philip Bay solely functions as a separate entity compared to crabs caught at other locations within their natural distribution, should they be managed separately?
In an Australian first during late July 2020, 15 Giant spider crabs collected near Blairgowrie in southern Port Phillip Bay, Victoria, Australia, were fitted with satellite tracking devices and released in their natural environment to gain a greater understanding of their movement characteristics post-aggregation. Data supported the hypothesis that crabs disperse post-aggregation where they are likely to remain independent before aggregating again. Location data was successfully obtained from 12 crabs. Independent of the time at liberty, all 12 crabs were found in <15 metres of water. No animals were found to have moved to deeper parts of Port Phillip Bay during their maximum time at liberty (77 days) which was previously thought to have occurred. Although most animals were found within 7 km of their deployment location, two Giant spider crabs were observed to travel much further distances. One crab travelled approximately 12 km in 77 days where it was found to reside off Swan Island; whereas, another crab travelled approximately 42 km in 55 days where it was located outside Port Phillip Bay near Cape Shanck. While there appears to be a misunderstanding by some stakeholders that giant spider crab only aggregate in southern Port Phillip Bay off Rye and Blairgowrie; this project validates that crabs have the ability to move in other regions of Port Phillip and not restricted in moving within Port Phillip Bay's boundaries. Aggregations have been observed off Queenscliff, Swan Bay and St. Leonards.
Such movement activity supports the hypothesis that giant spider crabs have the capacity to move large distances, are capable of stock replenishment via immigration and emigration and not solely restricted to southern Port Phillip Bay. Giant spider crabs are found along the coast of Victoria and beyond, as such connectivity of crab stocks within PPB with crab stocks offshore cannot be dismissed.
---