Angler diary program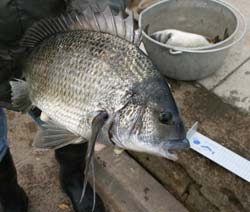 The Angler Diary Program has been running since the mid 1990s. It provides valuable time series information about catch trends, spawning success, survival and growth rates for a range of fish species. This diary information is also utilised in various stock assessments which guide the sustainable management of fish stocks.
The Angler Diary Program is designed to be flexible, encouraging volunteers to follow their typical fishing interests (General Angler Diarists). However, some anglers go beyond their typical angling habits and conduct more scientific fishing using prescribed gear and set locations (Research Angler Diarists). Issue 1 of the newsletters (see link below) describes the differences between General and Research Angler Diarists.
Angler diarists are equipped with special diaries and rulers. They record how long they spend fishing, the number and size of fish they caught and the gear used.
Angler Diary video
View the three part documentary videos about the Angler Diary Program. Part One is an introduction to the program, part two is how anglers are involved in the program and part three is how The Victorian Fisheries Authority use the information supplied by the anglers.
Research
Projects that rely on the Angler Diary Program are:
Recreational reefs
Trial recreational reefs were deployed off Frankston/Mordialloc in 2009. Angler diarists fish the reefs and adjacent areas (before and after reefs are deployed) to assess if the reefs attract fish and enhance fishing opportunities. This project is part of the $13.5 million Enhanced Recreational Fishing Program.
Baywide monitoring
Angler diarists are recording fishing activities in Port Phillip Bay to monitor fish stocks during and after channel deepening. This project is an extension of our existing program and aims to determine if fishing catches are within natural variation over the life of the channel deepening project. Baywide Monitoring reports
Planning
Fisheries Management Plans are developed for each region of Victoria (commonly defined by catchments) and outline the objectives, strategies, actions and research needs for managing fisheries in that area. Angler diarists keep fishing diaries and collect fish samples as part of the research and monitoring elements of these plans. Fishery management plan reports
Get involved
If you would like to get involved or need a new diary contact Pam Oliverio at the Fisheries Research Branch on (03) 5258 0111 or email pam.oliveiro@vfa.vic.gov.au
The Victorian Angler Diary Program is funded by The Victorian Fisheries Authority and Recreational Fishing Licence revenue.