Fisheries Officer Career - Victoria
What is the role of Victorian Fisheries Officers?
Fisheries Officers deliver management programs designed to protect inland and marine fisheries in Victoria.
A Fisheries Officer's main role is to ensure compliance with the Fisheries Act and Regulations. These regulations ensure our fisheries resources are managed sustainably and shared equitably by the community.
Fisheries Officers conduct inspections, surveillance and intelligence operations, education and advocacy programs and prosecutions. They also work closely with other agencies such as Victoria Police when necessary.
What duties and tasks do Fisheries Officers perform?
Common tasks include:
Patrolling Victoria's marine and inland waters.
Inspecting commercial and recreational fishers to ensure compliance with legislation.
Inspecting wholesale and retail fish premises to ensure that fish are legally sourced.
Preparing briefs of evidence and prosecuting matters in court.
Undertaking surveys to collect, analyse and prepare reports related to fisheries management issues.
Responding to fishing offence reports received via the 13FISH offence reporting line.
Promoting marine management programs and policies.
Ensuring compliance within marine protected areas and reserves.
Assisting in the execution of major operations which target illegal activities and conducting search warrants of premises, factories and restaurants.
Providing advice to Fisheries management.
Educating, advising and providing information to the community on a wide range of topics relating to fish and their protection, responsible fishing and regulation changes.
Assisting with the delivery of education programs to angling clubs, schools, multicultural groups and other forums through informative talks and practical fishing sessions.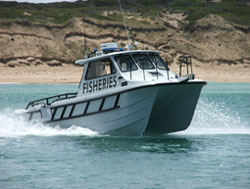 Because of this diverse range of responsibilities, Fisheries Officers are multi-skilled. They have a strong understanding of all aspects of fishing and a familiarity with complex State and Commonwealth laws associated with commercial and recreational fishing. In addition, Fisheries Officers must effectively communicate their legislative knowledge to the community and fishing industry.
Fisheries Officers work in a variety of environments across Victoria and are required to be physically fit. They can be on remote rivers in the northwest to isolated coastline in the east. Officers may be required to operate vessels in lakes, rivers, bays and inlets and offshore areas along Victoria's vast coastline. They also conduct aerial surveillance of protected areas.
Fisheries officers are shift workers and are required to work shifts, weekends and public holidays. Officers can be subjected to long working hours at odd times. They may be recalled to duty at any time of the day or night and on weekends and public holidays to respond to complaints or reports of illegal fishing activities.
Fisheries Officers are stationed at one of 18 work locations throughout Victoria including Alexandra, Altona, Apollo Bay, Ballarat, Bendigo, Cowes, Horsham, Lakes Entrance, Mallacoota, Mornington, Portland, Queenscliff, Swan Hill, Tatura, Traralgon, Warrnambool, Wodonga and Yarram. There may be opportunities for officers to move between stations or to undertake short term secondments at a different station.
Other Opportunities
Education and Enforcement is just one of a number of branches within The Victorian Fisheries Authority. Fisheries Officers develop a unique skill set which gives them flexibility to move within the business in areas such as education, policy, licensing, offence management, commercial and recreational fisheries management, intelligence management and investigations.
As a Fisheries Officer you will be a part of a professional team of people who share a passion for the industry. The wide variety of tasks involved with being a Fisheries Officer can provide for a challenging and satisfying career.
What qualifications do I need?
To be eligible for appointment as a base grade Fisheries Officer in Victoria, the following qualifications are required:
Recreational boat licence
Applied first aid (level 2) certificate or equivalent
Demonstrated ability to swim (certificate stating you can swim 100m in less than 4:00 minutes)
A current manual driver's licence
Evidence of an appropriate level of literacy and numeracy to function in an Authorised Officer position (completion to the standard of at least Year 11 English or equivalent)
Australian citizenship, permanent residency visa or appropriate visa.
Before appointment to a Fisheries Officer role the following requirements will also have to be satisfactorily met as part of the recruitment process:
Medical assessment (including hearing test and eyesight test to Transport Safety Victoria coxswains standard)
Physical assessment
Psychometric, suitability and psychological assessment
Security screening - including National Police Check, completion of Victorian Public Service declaration of private interests form and statutory declaration.
The following qualifications are also desirable:
Tertiary qualification in a relevant field including; natural resource management, fisheries, criminal justice/criminology, or law.
A coxswain certificate (available from Transport Safety Victoria, Maritime Division)
Scuba diving or snorkeling certificate or experience.
Fisheries Officer Career structure & Training and Assessment Program
Entry into this occupation is very competitive; this is because it is a specialised and unique role and there are a limited number of positions across the state.
Successful candidates commence their career as a Level 1 (Trainee) Fisheries Officer and must successfully complete a 12 month Fisheries Officer Training and Assessment Program to be confirmed in their role for ongoing employment as a fisheries officer. The program involves three phases:
Phase 1 involves a two week induction and local familiarisation program at the trainee's station.
Phase 2 involves a 10 week live-in course at Queenscliff, Victoria to provide trainees with the necessary skills and knowledge required to commence phase 3 as a provisional authorised fisheries officer able to exercise law enforcement powers. The program exposes trainees to aspects of the job including legislation, education, compliance, prosecutions, effective communication and conflict resolution, 4 wheel driving and boat handling. At the successful completion of this phase, trainees will be provisionally appointed as authorised fisheries officers and will be able to exercise law enforcement powers under the guidance of an experienced fisheries officer.
Phase 3 involves a 42 week period of training and assessment, both formal and on-the-job, at the trainee's station and at other locations around the State. Phase 3 also involves the completion of a Training Log Book and regular competency and performance assessments. The Training Log Book provides a record of the trainee's professional development and performance during the training and assessment program. Trainees are regularly assessed during their first 12 months to ensure that they meet the competencies and standards required in their role as a Fisheries Officer. Trainees who successfully complete this phase of the program will be confirmed in their role as an authorised fisheries officer and will progress to being a Level 2 Fisheries Officer.
Note: Trainees who do not successfully complete all phases of the training program will not be eligible to have their appointment as an authorised fisheries officer under the Fisheries Act 1995 confirmed. This appointment is an inherent requirement of the role of a fisheries officer and is a condition of employment. A person who does not meet this inherent requirement will have their employment terminated.
By the third year, Fisheries officers will progress to Level 3 Fisheries Officer. The career structure also provides for further opportunities of promotion and transfer during a Fisheries Officer's career based on a competitive merit selection process.
Fisheries Officers at all levels are also eligible for additional allowances for working shift work, duties at sea or for working in remote areas.
The ability to manage confronting situations through negotiation and resolution is an important skill required of Fisheries Officers so training is provided to develop these and other communication skills.Officers are issued with and required to carry and maintain defensive equipment including Oleoresin Capsicum spray, baton and handcuffs. They receive regular ongoing training in the use and safe custody of these items.
Fisheries Officer recruitment process
The Victorian Fisheries Authority runs a recruitment process when there are a number of Fisheries Officer vacancies identified - in the past this has been every 2-3 years. The last recruitment process was in late 2015.
Fisheries Officer jobs are advertised on careers.vic.gov.au.
The various stages of the recruitment process include:
Ability testing and Psychometric testing – this type of testing aims to assess whether an applicant's personal characteristics and abilities are a suitable match to the requirements of a fisheries officer role.
First round interviews
Second round interviews
Assessment Centre - Candidates who have progressed to this stage will be asked to attend a half-day Assessment Centre. At the assessment centre, candidates will be given opportunities to work in groups or individually to solve specific scenarios.
The primary focus of the assessment centre is to assess candidates on their communication and teamwork skills, which are of high importance for fisheries officers.
Candidates who progress to the final stage will be asked to complete a medical assessment at a healthcare professional nominated by the Department. The medical assessment is necessary to ensure that applicants:

are able to deal with the health and safety issues specific to the job of a fisheries officer as set out in the position description, and
meet the minimum eyesight standards set by Marine Safety Victoria for operating commercial vessels; and
are able to successfully complete the physical aspects of operational safety training.
Suitability standards
Conflict of interest/associations
At the assessment centre stage of recruitment, applicants will be asked to declare associations. It is important that VFA is aware of any association or potential conflict of interest which may compromise you or reflect adversely on the organisation. In some cases a management plan may be put in place; in others the association should be terminated.
Failure to disclose any information in the recruitment process may result in your application not proceeding or subject you to termination of employment.
A potential conflict of interest may arise in a number of different situations, including, but not limited to:
Any conflict between the personal interests of a public officer and the officer's duty to act in the public interest
The personal interests of a public officer include those of family members, friends, associates, organisations to which the officer belongs, and other similar interests
Financial interests including receipt or possession of money and goods in a range of circumstances, including outside employment and private business activities
Non-financial interests including influences, loyalties, subjective or ideological biases, personal beliefs and predispositions, membership of civic organisations and associations, partisan affiliations and attachments, predispositions and prejudgments, moral beliefs and aesthetic judgments, and enmity towards individuals or groups
Financial interest in a company with whom the employer is conducting commercial business;
Access to information or knowledge of commercial interests to other parties
A personal relationship (e.g. if the employees are involved in a selection panel)
Buying or selling of shares in a company at a time when the employees possess information that could affect the value of those shares.
For Fisheries Officers the following three categories specifically apply:
Recreational participation in the regulated fishing activity is acceptable provided that you do not engage in any advocacy activities aimed at changing the fishing or game rules or influencing the way that public funds are invested in the sector
Any participation in a commercial entity involved in the regulated fishing activity (including commercial fishing, aquaculture, seafood processing, recreational charter fishing or guiding or fishing tackle trade) is unacceptable and you must immediately divest any such interest and
If you are a position holder in a body involved in fishing you must immediately resign from any such role.
Prior history
To be eligible for appointment as a Fisheries Officer you must have a high level of ethical standards. A history of offending or irresponsible behaviour may disqualify you from consideration. VFA conducts extensive background checks on Fisheries Officer applicants during the selection process.
A copy of the prior offence history guidelines can be obtained if required.
Consent to records check
This authorises VFA to undertake a probity check of VFA and other fisheries and environmental regulators records. This consent form must be provided at Stage 3 - Assessment Centre.
Applicants will need to provide a completed security and suitability questionnaire at the assessment centre stage of recruitment. This form will be provided to all shortlisted applicants.
National Police Certificate
Applicants will need to obtain and provide a National Police Certificate prior to proceeding to the interview stage of recruitment.
This will involve a national name check and fingerprint records check. Please note that Victoria Police take a minimum of 10 working days to process an application. The sooner you apply for the certificate and arrange to be fingerprinted the better.
Further information
Fisheries Officer (trainee) positions are advertised periodically when vacancies arise. Jobs are always advertised on careers.vic.gov.au.