New Fisheries podcast set to make a splash
27 November 2019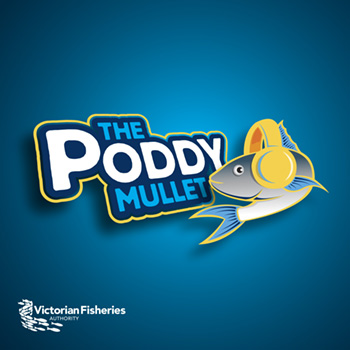 Recreational and commercial fishers, growers, seafood consumers and people who simply love our waterways can now tune in to the Victorian Fisheries Authority's (VFA) new fortnightly podcast, The Poddy Mullet.
VFA Chief Executive Officer Travis Dowling said listeners will get a genuine, behind-the-scenes peek into the fascinating work of fisheries scientists, managers, growers and experts.
"We want to share the amazing stories up close and personal by recording candid conversations about what's going on in Victoria's aquatic backyard," Mr Dowling said.
"The Poddy Mullet is another meaningful way for us to connect with our stakeholders, complementing our significant social media presence which is widely considered a national leader amongst Fisheries agencies.
"The first episode, which is now available, features Minister for Fishing and Boating, Jaala Pulford, and Travis Dowling, explaining how phase two of Target One Million is making Victoria an even better place to wet a line with family and friends.
"They provide an outline of what makes up Target One Million and how Fisheries are tracking delivering the diverse suite of commitments that range from stocking 10 million fish in 2022 to building a new native fish hatchery and ending commercial net fishing in the Gippsland Lakes.
"Episode two will be with Steve Vidler from our Snobs Creek hatchery who will talk about how native fish, including the iconic Murray cod, are bred and grown to a size for release into our lakes and rivers.
"Steve has been described as 'the busiest babysitter in Victoria' given he looks after millions of juvenile native fish every spring and summer."
Mr Dowling said the podcast series will take a deep dive into all aspects of fishing across the state.
"Listeners can expect conversations about the health of Victoria's snapper stocks, fresh fish supply, calamari research, fish aggregating devices, access and facilities, and more."
Episode one of The Poddy Mullet is available now on your favourite podcast app or head to www.vfa.vic.gov.au/thepoddymullet to listen online.