New family-friendly fishing facilities for Purrumbete
11 July 2018
Original media release available here.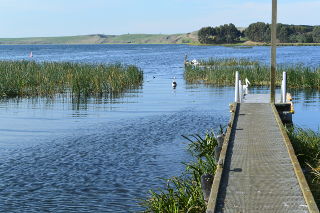 Freshwater anglers will soon have even better fishing facilities at Lake Purrumbete thanks to a $100,000 grant from the State Government's Target One Million plan, which aims to get more people fishing, more often.
Lake Purrumbete is one of Victoria's renowned crater lakes in the south-west and attracts thousands of anglers annually for its trophy-size brown and rainbow trout, Chinook salmon and abundant redfin.
Member for Western Victoria, Gayle Tierney said amenities at the lake needed upgrading to improve land-based fishing opportunities for families and their children, and to improve boating access.
The project will install a new family-friendly, all-abilities 70 metre fishing pontoon to help anglers without a boat wet a line more easily.
For boaters, the existing launching ramp and jetties will be renovated and nearby aquatic weed removed so that vessels can better access the lake through the shallow margins.
The State Government's Target One Million plan is investing a record $46 million into worthwhile projects like this that deliver clear benefits to fishers.
With better boating access and family-friendly facilities, Lake Purrumbete will continue to be one of Victoria's best freshwater fisheries, which is good news for anglers and good news for regional businesses that depend on tourism.
For more information about Better Fishing Facilities Grants visit www.vfa.vic.gov.au/targetonemillion
Quote attributable to Member for Western Victoria Gayle Tierney
"Congratulations to the Lake Purrumbete Foreshore Reserve committee for seeking to improve freshwater fishing in their patch for members and the broader public."
"Lake Purrumbete is famous for providing year-round fishing opportunities for a variety of species so it makes sense to invest in better access and facilities to get more people fishing, more often."
"Lake Purrumbete shared in our record fish stocking of 6 million fish and will get more trout and salmon from our Snobs Creek hatchery this year too which is a real win for anglers."
Quote attributable to fishing personality Rex Hunt
"I am delighted that non-boating anglers, especially families and children, will now have a chance to catch iconic fish in this magnificent lake."