Massive trout opening for Goulburn River fishing
30 August 2019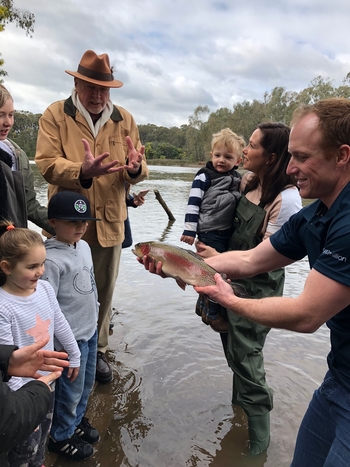 Victoria's huge trout opening is on again in September, with the Goulburn River set to be a major drawcard with 2,000 'stonker' trout to be stocked thanks to the State Government.
Member for Northern Victoria Jaclyn Symes said the Victorian Fisheries Authority (VFA) would release the giant rainbow trout, boasting a combined weight of 7 tonnes, at 11 family-friendly sites near Eildon.
The stocking is funded by recreational fishing licence fees and the State Government's $35 million Target One Million plan to get more people fishing, more often, in more places.
The bumper stocking was a massive success last year and attracted thousands of keen freshwater fishers providing a boost to the local economy.
This year the Goulburn River between Molesworth and the Eildon Pondage will receive 1500 big trout, with 500 to be released into the Eildon Pondage itself.
Families heading to the Eildon district can also visit the free Goulburn Fishing Festival on Saturday 7 September, based at the Eildon Community Centre.
Free activities at the Festival will include fishing clinics, fly-fishing lessons, seafood cooking demonstrations and live trout releases into the Pondage.
The event will also boast fishing tackle displays, prizes and raffles, a jumping castle and face painting for the kids, plus the Fisheries education trailer. Fireworks will light up the Eildon Pondage at 7pm to cap off the day.
For more information, including a map of the 11 stocking sites, visit www.vfa.vic.gov.au/goulburnfishfest.
Quotes attributable to Member for Northern Victoria Jaclyn Symes
"The release of 2,000 rainbow trout into the Goulburn River was a massive success last year attracting thousands of fishers to the district for opening weekend and many months that followed."
"Be sure to get along to the Goulburn Fishing Festival for a free tour of the Snobs Creek hatchery, which grows millions of trout and native fish for the state-wide stocking program."