Free open days at your Snobs Creek Hatchery
19 June 2019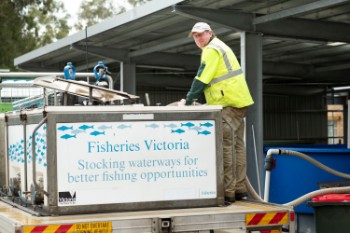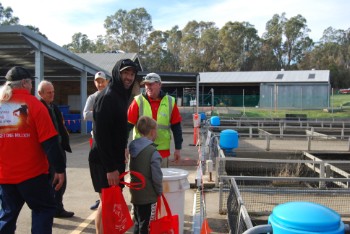 The Victorian Fisheries Authority's Snobs Creek hatchery will open its doors during the school holidays and welcome visitors to free open days on July 11 and 12.
Victorian Fisheries Authority CEO, Travis Dowling, said the two open days provide keen freshwater anglers, locals and tourists with the perfect opportunity to learn about how their fish are produced.
"The hatchery's operation is funded by your recreational fishing licence fees and the State Government's Target One Million plan, which is investing $34 million to get more people fishing, more often," Mr Dowling said.
"The team at Snobs grew a record number of Murray cod for stocking last summer and Snobs is the home of trout production for Victoria's state-wide stocking program.
"The hatchery played a huge part in stocking over 6 million fish in 2018 and will be pivotal in achieving the ambitious Target One Million commitment to stock 10 million by 2022.
"The open days provide a rare, behind-the-scenes view into the hatchery, where visitors can talk directly with expert Fisheries staff about the process of growing your trout, salmon and native fish.
"Come along to see first-hand how fish are bred, fed, sorted and loaded into customised stocking trucks for release into waterways across the state to make your fishing even better.
"The open days will include family-oriented activities with prizes to be won and plenty on offer for kids of all ages, including fishing activities run by our education officers, casting clinics, and even a movie theatre to see how fish were once produced back in the day."
Mr Dowling encouraged families to consider making a long weekend of it, combining a visit to the hatchery with wetting a line in the picturesque pondage or trying your luck in the deeper waters of Lake Eildon.
Food will be available for purchase from the local Lions Club onsite.
When: 10am – 2pm, Thursday 11 July and Friday 12 July 2019
Where: 455 Goulburn Valley Highway, Eildon
Learn more at www.vfa.vic.gov.au/snobsopenday