Where we've improved access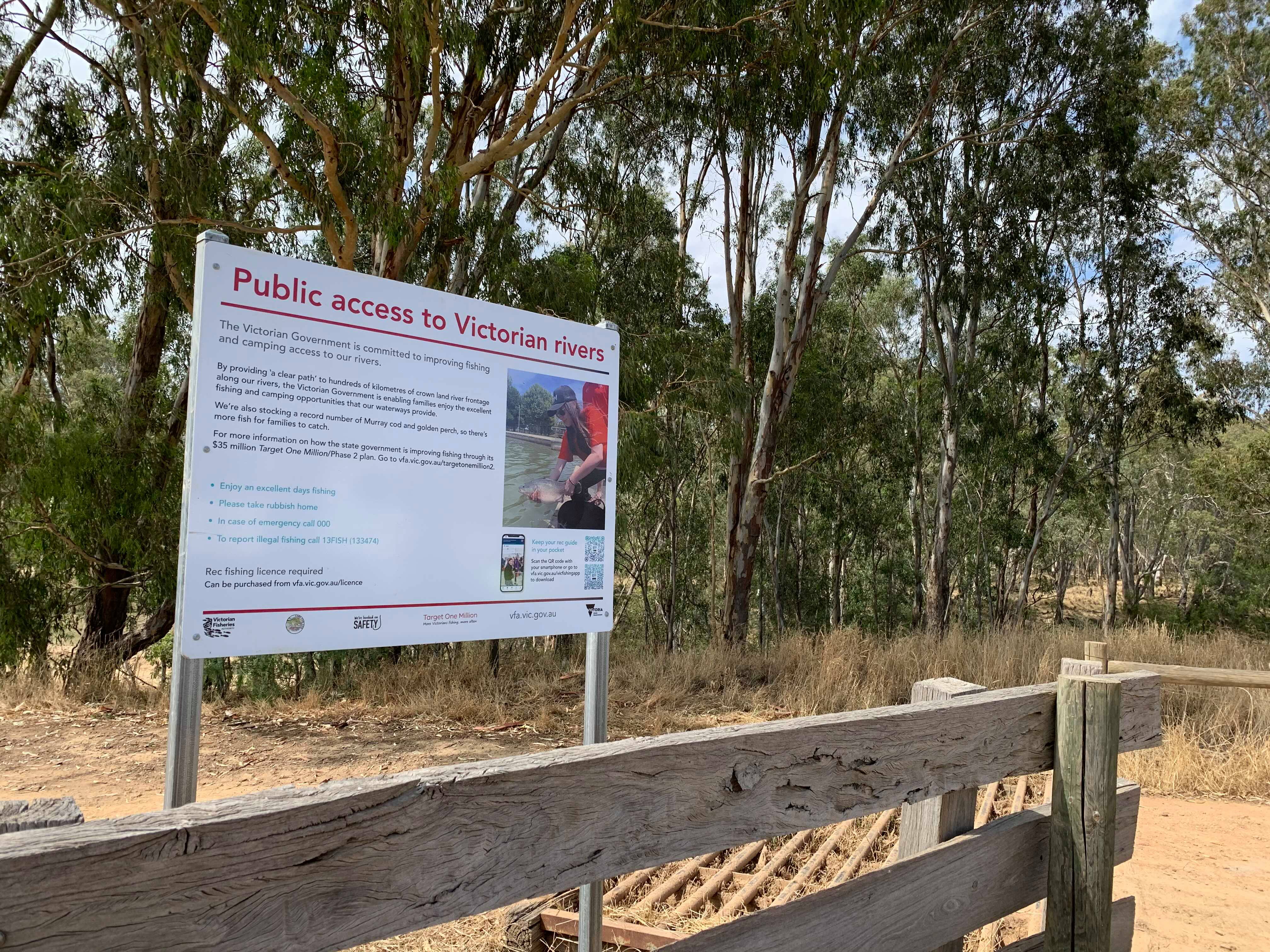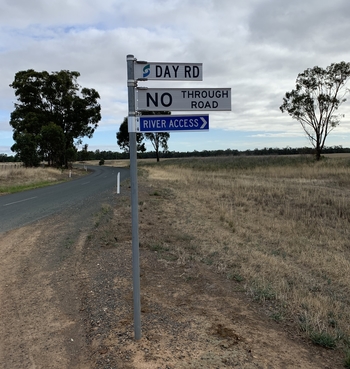 The VFA has identified several high value recreational fishing sites with access issues the Government has asked us to rectify.
Access to Crown water frontage for various recreational users (fishers, bird watchers, hikers, etc) has been limited by poor infrastructure and confusing information regarding access points.
For many of these identified sites, the issue is perception of private ownership by the licensee or adjoining private landholder.
The VFA will be installing access gates and signage at the entry points to Crown Land as part of the project, and in time, will create a map on the VFA website/app that specifies each access point.
In addition, we will install directional road signs, directing the recreational user from the main road to the access point that we will create.
To date, we have improved angler access at 40 sites on the Goulburn River, in and around Murchison and the Goulburn Weir.
This election commitment is part of the Government's Target One Million program to increase participation in recreational fishing in Victoria by stocking more rivers/lakes and constructing new boat ramps, fishing platforms, fish cleaning tables an car parking facilities.
The list below details sites the VFA has improved access to. Click on the linked street addresses in the table to view the location in Google Maps.
| Waterway | Area | Street Address (links to location on Google Maps) | Improved access progress |
| --- | --- | --- | --- |
| Goulburn River | Bunbartha | Pogues Rd off Barmah-Shepparton Rd | |
| Goulburn River | Bunbartha | Lord Rd off Barmah-Shepparton Rd | |
| Goulburn River | Kaarimba | Rathbones Rd off McLellands Rd | |
| Goulburn River | Kialla | Raftery Track off Raftery Rd | |
| Goulburn River | Kialla | Raftery Rd off Goulburn Valley Hwy | |
| Goulburn River | Kialla West | Moira Drive off Goulburn Valley Hwy | River access sign |
| Goulburn River | Kotupna | Booths Rd off Rathbones Rd | |
| Goulburn River | Kotupna | Rathbones Rd off Murray Valley Hwy | |
| Goulburn River | Kotupna | Frasers Rd off Murray Valley Hwy | |
| Goulburn River | Kotupna | Hanlons Lane off Murray Valley Hwy | |
| Goulburn River | Kotupna | Vearing Lane off Murray Valley Hwy | |
| Goulburn River | Kotupna | Waradgery Rd off Murray Valley Hwy | |
| Goulburn River | Mooroopna | Pyke Rd off Toolamba Rd | |
| Goulburn River | Mooroopna North | Koenig Rd off Alexander Rd | |
| Goulburn River | Mooroopna North | Alexander Rd off Echuca-Mooropna Rd | |
| Goulburn River | Mooroopna North | Trotter Rd off Echuca-Mooropna Rd | |
| Goulburn River | Murchison | Corner of Day Road and Murchison Goulburn Weir Road | River access sign |
| Goulburn River | Murchison | Corner of Day Road and Finlay Road | River access sign and access information sign next to the access gate. |
| Goulburn River | Murchison East | Corner of Cassidys Road and Murchison-Violet Town Road (access point is on the bend of Cassidys Road) | River access sign |
| Goulburn River | Murchison East | Corner of Cassidys Road and Duggans Road | River access sign |
| Goulburn River | Murchison East | Browns Road (Smith's Bend camping area) | River access |
| Goulburn River | Murchison East | Browns Road (Brown's Bend camping area) | River access |
| Goulburn River | Murchison North | Follett Rd | River access sign |
| Goulburn River | Muchison North | Punt Rd | River access sign |
| Goulburn River | Murchison North | Corner Thompson Road and River Road | River access sign |
| Goulburn River | Murchison North | Arcadia Streamside Reserve (access via Thompson Road) | River access |
| Goulburn River | Murchison North | River Road (just after the turn off from Murchison-Tatura Road) | River access sign |
| Goulburn River | Nathalia | McLellands Rd off Barmah-Shepparton Rd | |
| Goulburn River | Toolamba | Toolamba Road and Kiota Rd (Cemetary Bend) | River access sign |
| Goulburn River | Toolamba | Cnr Rutherford Rd and Bitcon Rd | River access sign |
| Goulburn River | Toolamba | Waugh Rd off Toolamba Rd | |
| Goulburn River | Undera | Madil Rd off Echuca-Mooropna Rd | |
| Goulburn River | Undera | Fidge Rd off Echuca-Mooropna Rd | |
| Goulburn River | Undera | Coomboona Rd off Echuca-Mooropna Rd | |
| Goulburn River | Wahring | End of Moss Road, Goulburn Weir (close to the river) | Access information sign |
| Goulburn River | Wahring | Corner of Moss Road and Morrissey Lane | River access sign |
| Goulburn River | Wahring | Corner of Moss Road and Hayshed Road | River access sign |
| Goulburn River | Wahring | Corner of Morningside Road and Deanes Road | River access sign |
| Goulburn River | Wyuna East | Weller Rd off Echuca-Mooropna Rd | |