Eildon Fishing Festival event schedule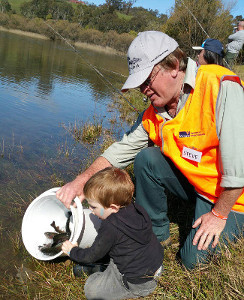 When: Saturday, 2 September, 2017
Time: 10am – 4pm
Where: Eildon Community Centre
Cost: Free
Trade expo – check out what's new in fishing gear with exhibitors from all aspects of the tackle industry.
Release trout into the Eildon pondage (all day) – take part in stocking the Eildon Pondage with some of 1,000 rainbow trout scheduled to be released on the day.
Snobs Creek hatchery tours – a unique opportunity to tour the site where over one million fish are produced annually. Tours depart from the Eildon Community Centre every hour from 10.30 am.
Guided Fishing on Eildon Pondage – fish for trout with expert guidance. Bait and tackle provided. Register at the Eildon Community Centre.
Tuition and advice – talk with experts about the basics of fishing for trout, redfin and native species.
Fishing workshops – sharpen your lure and fly casting skills or learn the right knot for the right situation. All equipment supplied.
Cooking demonstrations – cook fish like an expert after getting some handy hints from a renowned local chef.
Prize draws – to be drawn regularly throughout the day.
Fun stuff for kids – jumping castle, face painting, balloon tying and more.
Afternoon entertainment – at the Rotunda. There will be live music and a Car Boot Sale from 4pm-7pm.
Car boot sale - swap, trade or buy fishing gear from others who share the passion. 3 - 7pm, near Rotundra. If you want a free stall, email belinda.lorensini@vfa.vic.gov.au before 18 August to reserve a spot. Download the flyer.

[PDF File - 1.5 MB]

Fireworks – at the Eildon Pondage at 7pm.
Note: the trout fishing season in Victorian rivers opens at midnight on Friday 1 September, 2017.
Staying over?
Accommodation

Address

Telephone

Contact

Eildon Lake Motel

2 Girwood Parade, Eildon

(03) 57742 800

Chris and Charmayne Healy

Eildon Parkview Motor Inn

6 Hillside Avenue, Eildon

(03) 57742 165

John and Jenny

Eildon Holiday Resort

515 Goulburn Valley Hwy, Eildon

(03) 57742 415

Stuart

Jerusalem Creek Marina and Holiday Park

501 Jerusalem Creek Road, Eildon

(03) 57742 585

Bruce

Rubicon Hotel and Motel

1362 Taggerty-Thornton Road, Thornton

(03) 57732 251

Darren

Golden Trout Hotel and Motel

1 Riverside Drive, Eildon

(03) 57742 508

Thornton Caravan Park

1288 Goulburn Valley Hwy, Thornton

(03) 57732 305

Blue Gums Riverside Caravan Park

746 Back Eildon Road, Eildon

(03) 57742 567

Eildon Caravan Park

11 Eildon Road, Eildon

(03) 57742 105

1800 651 691