Victoria's marine national parks and sanctuaries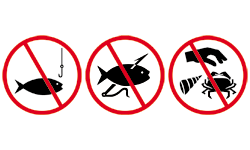 Marine National Parks and Marine Sanctuaries protect representative areas of Victoria's unique and diverse marine environments, now and for the future.
All forms of commercial and recreational fishing are prohibited in these areas.
This means you can't:
fish from the shore or a boat
dive to spear or collect fish or shellfish
collect bait
set traps and nets.
Heavy penalties apply.
It is your responsibility to know what restrictions, if any, apply to the area where you intend to fish or collect shellfish or crustaceans.
Boundary Markers
| | |
| --- | --- |
| | Shoreline boundary markers are located on land at the edge of the park and point inwards to the protected area. |
| | Inwater special markers are located at the sea boundary of the protected area. |
Maps with boundary coordinates are available from Parks Victoria offices. Call 13 19 63 or visit the Parks Victoria website.
The free Victorian Recreational Fishing Guide App has a "Can I fish here?" function that uses a smartphone's internal GPS to allow users to determine whether they are approaching or within a marine park or sanctuary.