Reduced Pipi Catch Limit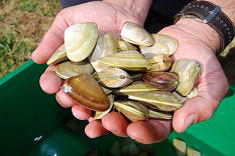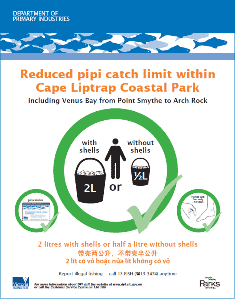 The reduced pipi catch limit within Cape Liptrap Coastal Park remains in place. Fisheries Officers continue to promote and enforce the reduced catch limit.
The reduced daily catch limit of 2 litres with shells and half a litre without shells applies between Point Smythe and Arch Rock, including Venus Bay.
The reduced limit was introduced in 2009 given increased harvesting by recreational pipi collectors in the Venus Bay area.
Fisheries Victoria recognises that fishers and families from a diverse range of backgrounds enjoy collecting pipis, either for food or bait, at Venus Bay. The reduced catch limit will help to ensure that access is shared among recreational collectors.
Signage at beach access points will remind visitors of the pipi catch limits and flyers will again be widely distributed by Fisheries Officers. Collectors are reminded that a Recreational Fishing Licence is required unless exempt and that pipis may only be taken with the use of hands and feet. Tools of any size or shape are not permitted.
For more information on the biology and ecology of pipis in Victoria please see the Pipi Fisheries Note.