Spiny freshwater crayfish (all species other than Glenelg spiny freshwater crayfish and Murray spiny freshwater crayfish)
| | |
| --- | --- |
| Common Name/s: | Spiny freshwater crayfish (all species other than Glenelg spiny freshwater crayfish and Murray spiny freshwater crayfish) |
| Minimum legal size: | 9 cm carapace length |
| Bag/possession limit: | 5 (of which no more than 1 crayfish may exceed 12 cm in carapace length) |
Collection methods for spiny freshwater crayfish
You must retain crayfish in whole or carcass form. You may not possess female spiny freshwater crayfish with eggs, or with young attached, or remove the eggs.
Measuring your catch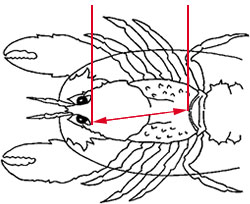 Spiny freshwater crayfish are measured from the rear of the eye socket to the nearest part of the rear edge of the carapace (main body shell).