Eildon Fishing Festival event schedule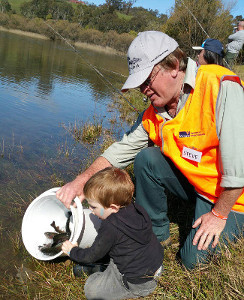 On September 1 2018, Eildon saw its biggest ever trout opening thanks to the Victorian Fisheries Authority and the State Government's Target One Million initiative.
The VFA stocked 2000 huge rainbow trout weighing up to 6kg for opening day, our largest and most ambitious stocking event ever.
We've committed to stocking these stonkers next year as well, given the overwhelmingly positive feedback from anglers and the greater Eildon community.
To find out just how big an impact we had on the local area over trout opening weekend in 2018, click here for our economic survey results.