Better trout fishing for Victoria
We are currently consulting with recreational fishers about proposed changes to Victorian trout fishing regulations to make for even better trout fishing in Victoria, which include: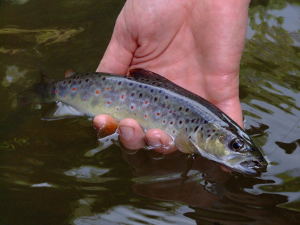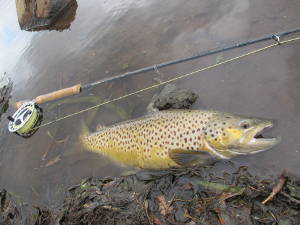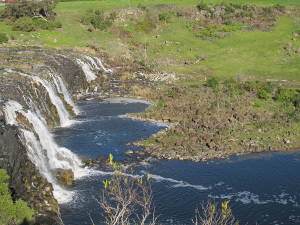 a new 25 cm minimum size for trout in four iconic trout streams,
a new 45 cm minimum size for trout in two trophy trout lakes, and
the removal of the trout closed season in two South West rivers.
Background
The State Government's Target One Million plan includes a commitment to introduce a minimum size for trout. Over the past two years, we have worked closely with trout fishers to understand their views, examined how best to implement minimum size limits and considered other trout regulation proposals.
As part of this process, we have looked at trout population data and considered how minimum size limits may affect trout fishing and participation.We understand there is a wide variety of fisher views on trout regulations. These proposed changes have the broad support of the Victorian Trout Reference Group.
The proposed regulations will complement record trout stocking now underway across Victoria.
Proposed regulations and rationale
Introduce a 25 cm minimum size for trout and reduce the bag limit from 5 to 3 trout for the following waters: Nariel Creek (upstream of Colac Colac bridge), Goulburn River below Lake Eildon, Mitta Mitta River (upstream of Lake Dartmouth), Ovens River (upstream of Porepunkah Bridge). Existing regulations that no more than 2 salmonids may exceed 35 cm will continue to apply to these waters.
This proposal acknowledges the high social value that trout fishers place on these iconic streams. As fishing pressure in trout streams is generally low, new fishing regulations are not expected to significantly improve trout catches however they will help promote these rivers as high quality wild trout fishing destinations.
Fisheries Victoria does not support a statewide minimum size for trout because most (~70%) of our wild river trout don't reach 25 cm and being able to take home a feed of trout remains an important motivation for many anglers. Reducing fishing participation is inconsistent with the Government's Target One Million commitment to get more people fishing, more often.
Introduce a 45 cm minimum size for trout in Hepburn Lagoon and Lake Toolondo with a reduced bag limit from 5 to 3 trout per day.
These lakes have a reputation for growing large trout and these regulations are expected to increase the size of harvested fish, which will increase visitation. Similar regulations at Penstock Lagoon in Tasmania have created a high quality 'put and grow' fishery that is valued by trout fishers.
Removing the trout closed season for the Hopkins and Merri rivers.
A separate proposal to remove the closed season for the Merri and Hopkins rivers has also been discussed at length through various recreational fishing forums. These South West coastal rivers are reliant on annual fish stocking, which is used to manage trout abundance and support high quality trout fishing. These productive waters have a reputation for growing large trout and opening up these waters during winter will increase participation and make a strong contribution to the local economy.
Have your say
If you would like to discuss these proposed regulations or have your say contact or send your written correspondence by no later than Thursday 13 July 2017 to:
Taylor Hunt, Fisheries Manager
PO Box 4509
Melbourne, Victoria 3001
Telephone: 03 5258 0256