Removal of net fishing from Port Phillip Bay
The Victorian Government announced a commitment to grow recreational fishing in Victoria through a number of measures, including the phasing-out of all commercial netting in Port Phillip Bay by 2022. The Government is on track to deliver on this important commitment.
What's new?
March 2018 – Consultation on revised management arrangements for the Western Port/Port Phillip Bay fishery
The Victorian Fisheries Authority (VFA) has been monitoring commercial fishing catch returns in the fishery and has observed a recent change in historic fishing practices, with an increase in targeting of important recreational species, in particular King George whiting (KGW). This is not consistent with the objectives of the Government's Target One Million plan.
The current catch limit on licences was established without species limits to minimise the regulatory burden on fishers. However, given the current catch of KGW recorded up to the end of December 2017, and the potential for this catch to exceed the historical catch, Government is proposing to revise the management arrangements for the fishery to prevent continued shifting of effort. The VFA is currently seeking public comment on a draft proposed Ministerial Direction and proposed Fisheries Notice . These proposed arrangements would:
Restrict the number of operators on each licence such that there is only one person authorised to carry out the fishing activities authorised by the licence; and
Prohibit the use of all licences during weekends and public holidays; and
Apply a total cap for non-bait species per licence (based on historic non-bait catch); and
Apply annual species catch limits for key recreational species. Whilst the total annual catch of all fish taken under the licence would remain unchanged, the composition of that annual catch limit would be unable to consist of any more than 3,500kg of King George whiting, 3,000kg calamari, 3,000kg flathead or 11,000 kg snapper on each licence.
These changes would be made by a variation to licences to restrict operator numbers, and the issue of a Fisheries Notice to apply catch limits and weekend/public holiday prohibitions.
We welcome comments on these draft documents by 6 April 2018.
Comments may be emailed to Kylie.wohlt@vfa.vic.gov.au or sent by mail to:
Kylie Wohlt
VFA
GPO Box 4509
Melbourne 3001
If you would like further information on these arrangements, please contact Kylie Wohlt on (03) 8392 6852.
Corio bay closed to netting – 1 April 2018
As from 1 April 2018, Western Port/Port Phillip Bay Fisheries Access Licence holders will no longer be able to use any fishing net in Corio Bay. This prohibition is described in section 153E(1)(a) of the Fisheries Act 1995. For the purposes of this provision, Corio Bay is defined in Section 153D as any waters of Port Phillip Bay west of longitude 144o30'. The map below shows the extent of the prohibition.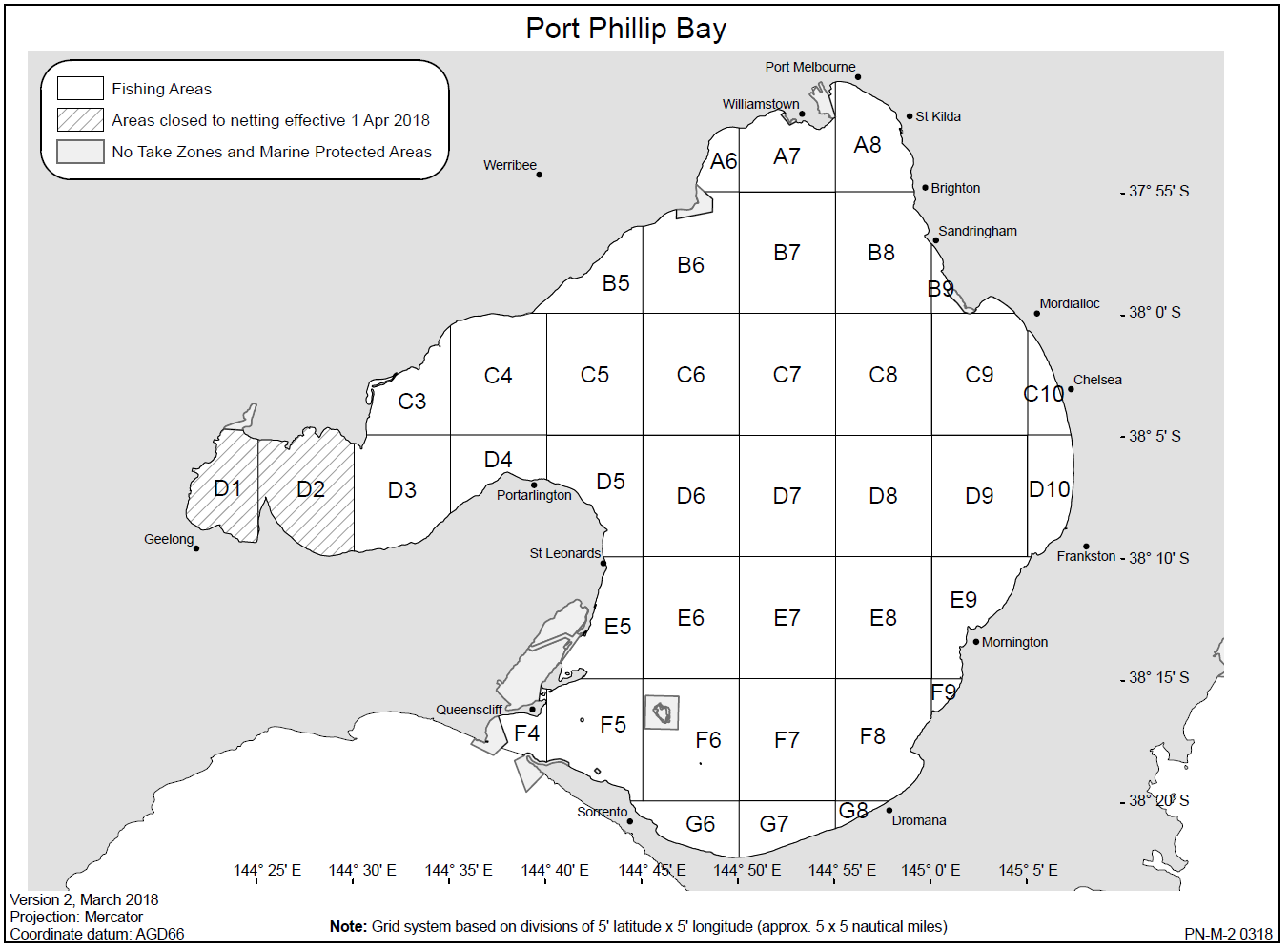 Third round of nominations to exit the fishery has closed
The third round of nominations closed on 30 January 2018. Consistent with the legislation, eligible fishers were able to nominate to accept a compensation offer to exit before 1 April 2018 or make no formal decision at this stage.
Thirty-four fishers have decided to exit the fishery since 1 April 2016. Eight nominated to remain post-2022 and one has made no decision at this stage.
Further information
A list of frequently asked questions has been prepared and will be updated as work progresses on delivering on this commitment.
This web page will be updated as more information becomes available.
If you would like further information, please contact Kylie Wohlt, Principal Policy Analyst, by email kylie.wohlt@vfa.vic.gov.au or phone (03) 83926852.